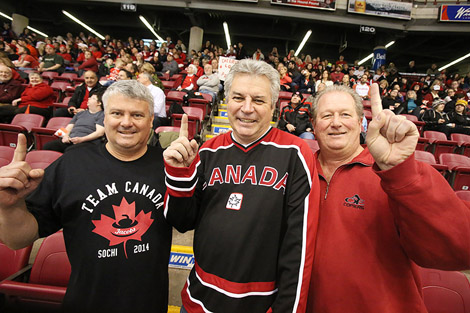 (Left to right: Acting Mayor Terry Sheehan, Sault Ste. Marie MP Bryan Hayes and councillor Brian Watkins seen February 21, 2014 during the live-stream of the gold medal curling game at the Essar Centre in Sault Ste. Marie. SooToday.com/Kenneth Armstrong)
NEWS RELEASES
BRYAN HAYES, MP
OFFICE OF THE
PRIME MINISTER
OF CANADA
*************************
SAULT STE. MARIE - On behalf of the Government of Canada, I would like to extend my most heartfelt congratulations to Team Jacobs on winning an Olympic gold medal at the 2014 Olympic Winter Games today.
This is the first gold medal for Team Jacobs and for Sault Ste. Marie, and the 23rd overall Olympic medal for Canada.
Team Jacobs, consisting of skip Brad Jacobs, third Ryan Fry, second E.J. Harnden & lead Ryan Harnden along with alternate Caleb Flaxey and coach Tom Coulterman, earned their gold medal in curling after they advanced to the championship game with a 10 – 6 win over China's Rui Liu in the semifinal.
In the Championship, Team Jacobs earned their gold against Great Britain's Team Murdoch with a 9 - 3 victory.
Today, with Team Jacobs front-and-centre on the Olympic podium, Saultites and Canadians across the country are filled with pride and admiration at their incredible talent, drive and strength as we celebrate this prestigious moment in their sports career.
Congratulations to the entire team and coaching staff for once again putting Sault Ste. Marie on top of the international sporting stage!
I wish our Canadian Olympic Team much more success as competition continues in Sochi.
*************************
Prime Minister Stephen Harper congratulates Canadian athletes on Olympic medals
OTTAWA - Prime Minister Stephen Harper today issued the following statement congratulating the Canadian men's curling team on their gold medal performance, Marielle Thompson and Kelsey Serwa on winning gold and silver respectively in ladies' ski cross, and Charle Cournoyer on his bronze medal performance in the men's 500m short track speed skating event at the 2014 Olympic Winter Games in Sochi:
"I would like to congratulate our Canadian men's curling team on winning gold at the 2014 Olympic Winter Games.
"I also join Canadians across the country in congratulating Marielle Thompson, Kelsey Serwa and Charle Cournoyer for their hard-fought and inspirational medal-winning performances. These remarkable accomplishments capped a great day for Canadian athletes in Sochi, and the whole country is extremely proud."
The members of the men's curling team are: Skip Brad Jacobs, Third Ryan Fry, Second E.J. Harnden, Lead Ryan Harnden and Fifth Caleb Flaxey.
Brad Jacobs, Ryan Fry, E.J. Harnden and Ryan Harnden began playing together in the 2012-13 season, winning the first Brier title for Northern Ontario since 1985 and a world championship silver medal.
Mr. Jacobs made his first appearance at the Brier in 2007.
In 2008, he attended the Brier as the fifth on a team skipped by Eric Harnden, which also included E.J. and Ryan Harnden.
In 2009, Mr. Jacobs took over the skipping duties with E.J. at third and Ryan at second.
In 2010, with Caleb Flaxey at lead, they finished second in the round robin at the Brier, becoming the first team from Northern Ontario to qualify for the playoffs since 1993, and won the bronze medal.
In April 2012, the team brought on Ryan Fry as the new third, shifting E.J. Harnden to second and Ryan Harnden to lead.
Marielle Thompson was born in North Vancouver, British Columbia, and currently resides in Whistler, British Columbia.
This is her first Olympic medal in her first Olympic Games.
She is the 2013 FIS World Championship silver medallist.
Kelsey Serwa resides in Kelowna, British Columbia, where she was born.
This is her first Olympic medal and her second Olympic Games, having competed in the Vancouver 2010 Olympic Winter Games. She is the 2011 FIS World Champion.
Charle Cournoyer was born in Longueuil, Quebec, and currently resides in Boucherville, Quebec.
This is his first Olympic medal in his first Olympic Games.
He is the 2013 ISU World Champion alongside Charles Hamelin, Olivier Jean and Michael Gilday, in the 5000m relay.
For more information on individual members of the Canadian men's curling team, please visit
here
.
*************************