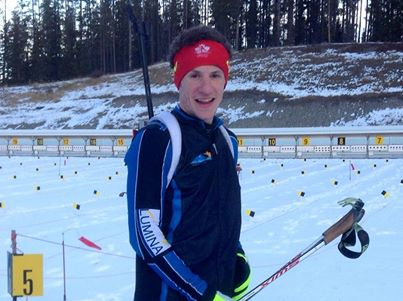 Scott Davie, a loyal SooToday.com reader and proud father of local biathlete Brett Davie, shared the following exciting news with us today.

***************************
This weekend Brett Davie competed in the World Junior Youth Biathlon trials in Brookvale PEI.

This was Brett's second attempt at making the World Juniors, as he missed out on making it in 2013 by 0.05 percent.

There were three races in which Brett competed in this weekend.

The first one was on Friday in which he came 5th overall and was 52 seconds behind the leader.

The second race on Saturday, Brett came 5th again, but due to a bad start.

As he left the starting line he broke a basket on his pole and was not able to get a new pole till he came into the shooting range.

So on Sunday's race, Brett knew he definitely had to be top three for any chance of him going.

As Brett was getting ready to go to the start line he noticed that the binding on one of his skis was broken and had to call for a new ski which put him 15 seconds behind on his start time.
Knowing he had to make up that time, he found the energy and came in 3rd, and this put Brett in the 4th qualifying spot to go to the World Juniors.
Brett is extremely excited to be going and will do his best to represent Canada.
He is forever grateful to Alberta's Stuart Harden (also going to Worlds) for running to get him a pair of his skis to race on.

He knows he would not have this opportunity without the support of his family, friends and community.

World Juniors is being held in Presque Isle, Maine from the 28 February - 6 March.

***************************