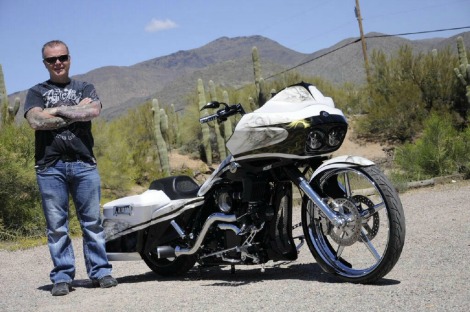 A local business owner will be a part of a television show set to premiere in Canada Wednesday night.
George Wilson, owner of Steel City Motorsports, was a part of the television show Biker Battleground Phoenix. The show features renowned motorcycle builders John Shope and Paul Yaffe, among others.
The premiere episode, which airs Wednesday night at 10 p.m. on the History Channel locally, features Wilson having Shope customize a 2012 Harley Davidson Road Glide, a bike that had previously worked on by Yaffee.
The customization happened after Wilson sent his bike to Shope, who runs a company called Dirty Bird Concepts to have some work done on it to showcase at Steel City Motorsports locally.
"They were filming the show at the time and he asked me who did it (previously)," Wilson said. "I told him it was Paul Yaffee and (Shope) told me he was filming the series and Paul was in it."
That's when Shope asked Wilson if the Harley could be a part of the show.
Wilson called it a "wild" experience.
"He treated me like gold," Wilson said of Shope when he travelled to Arizona to see the customized bike.
The bike, which is also featured in Urban Bagger magazine this month, will be on display at Steel City Motorsports on Thursday, weather permitting.
Photo courtesy George Wilson