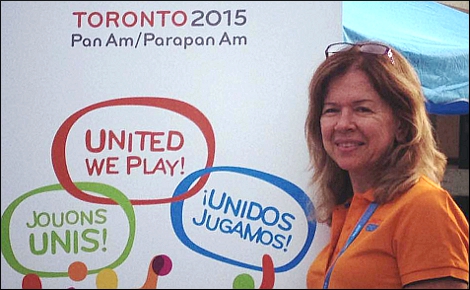 Opening ceremonies for the Toronto 2015 Pan Am/ Parapan Am Games get underway tonight and Sault Ste. Marie's Dr. Patricia McGarry-Roberts is stoked.
With 10,000 athletes, coaches and officials in 51 sports, and more than 23,000 volunteers in 16 municipalities, it's the biggest sports event in Canadian history.
McGarry-Roberts, a psychologist from Horizon Psychological Services at 680 Albert Street East, is one of 1,700 volunteers serving on the host medical team.
She's stationed at the mountain bike venue at Horseshoe Resort near Barrie and she's at the vanguard of a new Pan Am emphasis on mental health.
The host medical team, a multidisciplinary group of physicians, physiotherapists, registered massage therapists, nurses, first responders and others, serves athletes and their support staff, as well as the Pan Am/ Parapan Am workforce.
Focus on mental health
"For the first time, these games are going to include more attention to the mental health aspects of the games," McGarry-Roberts tells SooToday.
"I am part of the new team of seven professionals, including several Ontario psychologists and some social workers."
A principal part of McGarry-Roberts's responsibility is to focus on games-related new or exacerbated mental health issues.
"For example," she says, "an athlete may experience heightened anxiety or even depressed mood due to the pressure of competition, the size of the venue or the games, or perhaps the timing of being away from family."
"Our focus as psychologists is to provide brief intervention for games-related mental health issues," McGarry-Roberts says.
In the event of a mental health issue at the mountain bike venue, she says her role is to stabilize, de-escalate, provide support and direct services.
"It is short-term 'in-the-moment' work, versus a traditional psychotherapeutic relationship. Sports psychology is weaved throughout our work but not the only focus."
Trauma, spiritual needs addressed
In the event of a large-scale crisis or major trauma like the death of Georgian luger Nodar Kumaritashvili at the 2010 Vancouver Winter Olympics, the Pan Am mental health team will get debriefing and counselling support from crisis intervention stress management teams in the area.
"Our north medical lead Brian Bennett, who was [at the Vancouver Olympics], saw the need for mental health support for other athletes and the workforce in dealing with that tragedy," McGarry-Roberts says.
"Planners for these games wanted to cover all bases. We even have dogs who are part of a therapeutic program at the village and some satellite venues who arrive to reduce the tension and stress for participants, allow people of different cultures and languages to interact and laugh and communicate through their mutual love of animals."
The spiritual needs of athletes and staff will also be addressed though multifaith centres.
"The old model of having psychiatry on call has evolved to a modern approach you now see at the games, though psychiatry can still be reached at local hospitals."
Sault's golf psychologist
Dr. McGarry-Roberts has practised as a psychologist for more than two decades.
She underwent doctoral training at the University of Ottawa, clinical training at Brockville Psychiatric Hospital and forensic treatment training at the Ministry of Public Safety and Correctional Services in Sault Ste. Marie.
She's participated in performance and sports-related activities at the Toronto Marathon and in local golfing circles.
"I was a psychologist on the marathon course at the last two-kilometre stretch for a number of hours at a time. You never quite know what situation you might be faced with: disoriented runners, dehydration, anxiety before a race, the emotional crash afterwards, coping with loss, etc."
McGarry-Roberts is currently director of professional practice and competencies at the Ontario Psychological Association.
Checking in with Sault patients
While in Barrie. she will continue to manage her practice in the Sault.
"I am checking in with patients during the games on an as-needed basis and will need to return to the office during the last week of the games."
This year, all games volunteers have been required to complete training modules to orient them to the Pan Am/ Parapan Am Games and their respective venues.
At the mountain biking village medical clinic, McGarry-Roberts and her colleagues will support and treat athletes with unforeseen training injuries, help orient them to the venue, answer questions and generally keep spirits positive.
"Their events take place this Sunday so we expect Friday and Saturday to be a bit busier. My colleagues in other venues in Toronto, Hamilton, etc. will also manage issues as competitions move along in the next two weeks."
Moving past stigma
"There are a number of things that attract me to volunteer for local, provincial and international events," McGarry-Roberts tells SooToday.
"These opportunities allow me the chance to carry out my role as a psychologist and be a part of sports history in Canada. Working first-hand with high-level performance athletes is a privilege. At these games the extent of physical training and strength is incredible. But it's also the athlete with the mental edge that sees victory. I admire their dedication to be the best, to be determined and focused. "
'That being said, every day psychologists in Ontario work in a variety of capacities in schools, private practice, health care, with law enforcement, veterans and communities to help people move past stigma and manage and rise above mental health challenges. It's a privilege to work with my patients. I also admire their motivation and determination to improve the quality of their lives."
McGarry-Roberts has brought her partner Joe and her children with her to Barrie.
They expect to watch swimming and gymnastics competitions together.
CBC will broadcast tonight's opening ceremony on television and online starting at 7 p.m.
(SUPPLIED PHOTOS: ABOVE - Dr. Patricia McGarry-Roberts at Toronto 2015 Pan Am/ Parapan Am Games. BELOW - With some other members of the mountain biking medical team)