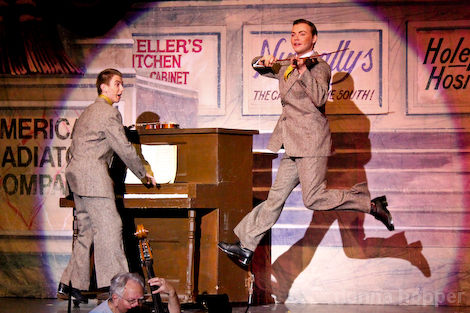 The Sault Symphony Orchestra proudly presents Singin' in the Rain, a stage production based on the classic film starring Gene Kelly, at the Kiwanis Community Theatre Centre from Thursday, December 13 through Sunday, December 16.

Directed by Timothy Murphy, Singin' in the Rain stars Devon Shearsby as Don Lockwood (Gene Kelly's role in the 1952 film production), Andrew Stuetz as Cosmo Brown, Kassandra Bailey as Lina Lamont, and Jennifer Avery as Kathy Selden.

The musical comedy is a lighthearted look into the trials and tribulations of transitioning from silent film to talking moving pictures in 1927 Hollywood.

With musical direction from John Wilkinson, the Sault Symphony's production of Singin' in the Rain includes a large ensemble featuring dancers from the Sherry Walsh Academy of Dance Arts.
It also highlights some beautiful set designs, a locally produced silent film, and on-stage rain showers.

For further details, show times, and ticket information, please click here.