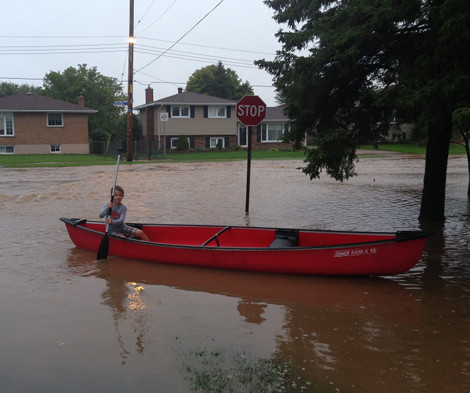 5:30 p.m. update
We snapped seven more photos of flooding and damage. The photos show a very soggy Stratchclair facility at the corner of Second Line and and Black Road, serious damage to the driveways of private homes in the Old Garden River Road and Millcreek area and a closed Wellington Street underpass.
An informal poll of local supermarket officials indicated that flooding troubles on Highway 17 along the North Shore had not stopped arrival of goods today.
*************************
10 a.m. update
As Saultites awoke this morning there were almost as many surprises as there are on a typical Christmas morning.
For some they were more fun than for others.
While Saultites in the area of Queen Street East around the East End Waste Water Treatment Plant began cleaning out the sewage that had backed up into their basements Easton Whitfield started his flood-day home from school with some canoeing on the corner of Farewell and Cheshire.
*************************
3:30 a.m. update
Chris obliged our earlier request for pictorial evidence, and here is our Farwell Terrace kayaker can be found in our photo gallery below.
*************************
2:30 a.m. update
News tips about the soggy state of Sault Ste. Marie and the surrounding are are flooding the news desk at SooToday.com.
One tipster reports lower part of Shetland Park flooded first time in 23 years.
Another says there is flooding in the underpass (as pictured in our gallery), on Queen and John Streets and on Albert and John Streets.
Then there is Chris. He tells us there is someone kayaking down Farwell Terrace.
Pictoral evidence of said unusual activitiy would be much appreciated.
*************************
*************************
Original release 1:10 a.m.
Third Line East closed between Birkshire Estates and Black Rd
As of 1:10 am, with the inclement weather Third Line East from Birkshire Estates to Black Rd has been closed until further notice. Please use alternate routes.
*************************