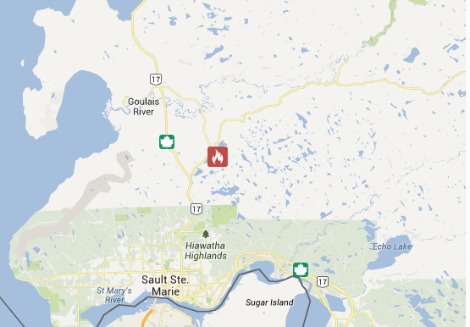 NEWS RELEASE
MINISTRY OF NATURAL RESOURCES
*************************
Forest Fire situation update - Northeast Region
Northeast Region - July 8, 2013
Active fires

There are now 14 active fires in the region.
By district, there are ten (10) fires in Cochrane, two (2) in Hearst, one (1) in Sault Ste. Marie and one (1) in Wawa.
[Sault Ste. Marie 6 is a 3.0 hectare fire located on an island]
No issues are expected with any of the on-going fires.
New fires
A total of three new fires occurred in the Northeast Region on Sunday July 7.
Cochrane 19 is a 50 hectare fire located approximately 60 kilometres southwest of the Victor Mine site in Cochrane.
This fire was ignited by a lightning strike and is being kept under observation.
The other two new fires on Sunday were Parry Sound 19 and North Bay 5.
Both were 0.1 hectare human-caused fires that have since been extinguished.

As of 4 p.m. on Monday July 8, two new fires had been confirmed in the region.
Cochrane 20 and Cochrane 21 are both lightning-caused fires that are 0.6 and 0.1 hectares in size respectively.
Smoke

Several large wildfires are still burning in northern Quebec. Depending on wind and weather patterns, smoke from fires in Quebec may enter northeastern Ontario.

If, however, you see a large column of dark-coloured smoke and/or open flame, please call 310-FIRE (3473) north of the French and Mattawa Rivers. In southern Ontario, call 911.

Fire hazard

The fire hazard has begun to moderate as a low pressure weather system takes hold across much of the region.
With rain and cloud forecast, fire activity is anticipated to remain light for the next several days.
However, with thunderstorms possible, new holdover lightning fires could appear when drier conditions return.
*************************
Earlier coverage