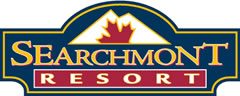 Searchmont is officially open today!
It's finally here!
Open this morning at 9:30am with five runs.
Peggy's Promise and The Main will be open off the Triple Chair.
These are groomed with a combination of man-made and natural snow.
Searchmont will be opening other terrain throughout the day naturally.
These will be un-groomed runs and extra care should be taken as natural and man-made hazards may be present.
It should be fun!!!!
* * *
Earlier news release

SEARCHMONT RESORT

****************************
Searchmont set to open with record breaking snowfall

With winter finally arriving and a record breaking snowfall under its belt Searchmont is set to officially open on December 26, 2012.

The snowfall was welcomed with open arms by the resort as the anticipated opening of December 21 was pushed back due to unseasonably warm temperatures throughout December.

The recent snowfall has helped to establish a much needed base that the resort requires to operate and has been struggling to create with snowmaking over the last month due to the weather.

"Snow is being tracked out, ditches are being filled, and the forecast looks great," says General Manager Dan Misere. "We will continue to blow snow at every available opportunity and examine the options of opening even sooner if the conditions allow us to do so."

Searchmont will be open daily from 9:30 a.m. to 9 p.m. from Boxing Day until January 5, and will resume their regular schedule on January 6, 2013.

For complete details please visit www.searchmont.com

Special lift ticket pricing will remain in effect until more terrain is open:
Adults - $29
Youth (11-17), Senior (55-69) and College/University Students - $19
Children under 10 and Super Seniors (70+) are always free
The Backyard mini-park will also be open all day.

Check us out on Facebook for updates, special events, and promotions.

Daily updates on opening and all things Searchmont can be found by visiting www.searchmont.com.

About Searchmont

Operating for over 50 years, Searchmont is a not-for-profit organization that has an estimated annual economic impact of $5.4 million locally, and provides support for 135 local jobs.

Searchmont promotes active living through recreational, competitive, and educational programming, and is an important lure for the recruitment of professionals to the area.

Searchmont is designated as an official training centre by Alpine Ontario.

****************************