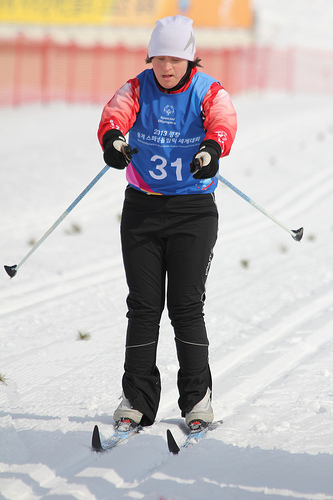 "I want to do well. I want to ski hard and go all the way to the finish line. I want to finish strong for everyone," Rachelle Barbeau told SooToday.com before she left for the World Special Olympics Winter Games in PyeongChang, South Korea a few weeks ago.
Barbeau did what she wanted to do.
Like a boss.
Recently she came home sporting two silver medals.
Here's what her mom, Marg Barbeau, sent us to let us know how Rachelle finished.
*************************
Sault Ste. Marie cross country skier Rachelle Barbeau returned from competing in the World Special Olympics Winter Games in Pyeongchang, South Korea.
It was a long journey which began when she learned how to ski at the Soo Finnish Nordic jackrabbit program.
Team Canada was comprised of 102 athletes who travelled with their coaches and honorary coach former Olympian Catriona Lemay Doan, to South Korea Jan. 26-Feb.6/13.
They competed in nordic skiing, snowboarding, alpine skiing, floorball, snowshoeing, floor hockey, speed skating, and figure skating against athletes from 110 countries.
Special Olympics Team Canada had a significant presence among this diverse group of nations, as the third-largest delegation at the Games, behind only Special Olympics Korea and Special Olympics Team USA, and just ahead of Russia, China, and Germany. S. Korea is 14 hrs. ahead of us on the clock, so the athletes had to deal with jet lag after arrival.
Korea is 14 hrs. ahead of S.S. Marie in the time zone.
They spent two days experiencing the culture before travelling to Alpensia Ski Village to commence the ski races.
Rachelle and Shane (a skier from Alberta) were dressed in traditional Korean costumes for a wedding.
The team also basked in the warmth of hot springs as the snow fell on them.
There were many celebrities who were involved at the World Special Olympics Winter Games.
At the opening ceremonies, the Korean President Lee Myung-bak and Korean President-elect Park Geun-hye, who will become Korea's first female president, were both in attendance to welcome the more than 2,300 athletes from around the world to the Republic of Korea. Ban Ki Moon, Secretary General of the U.N., provided video remarks saying that Special Olympics World Winter Games will advance dignity and opportunity of all.
Live remarks were given by several others, including Daw Aung San Suu Kyi, MP, Chairperson, National League for Democracy, Burma (Myanmar), who walked on-stage hand-in-hand with Special Olympics athlete and global messenger Ariel Ary of Costa Rica; she proclaimed that "it is the spirit that overcomes" which rang true with all in attendance.
This was followed by remarks by Tim Schriver whose mother Eunice Kennedy Schriver helped found Special Olympics.
There were a few former NBA players who attended many games and interacted with the athletes.
Dikembe Motombo, Sam Perkins, and most notably Yao Min, who was in a snowshoe relay race on the Canadian team since they were the only team that could supply him with snowshoes large enough to fit.
The Korean army arrived every day to occupy the stands with the rest of the fans, and play their drums and hit the gong when a skier crossed the finish line.
It made for a clamorous but fun filled atmosphere, and added to the Korean culture that we all enjoyed.
The weather and conditions varied from -16 C and sunny, to a day of pouring rain when the races were postponed.
Following that, the conditions were quite icy and there were multiple crashes by skiers speeding downhill.
Rachelle fared well due to her daily training at Hiawatha Highlands regardless of the weather.
Rachelle skied very well on the Alpensia Nordic ski course, which is the site for the 2018 Winter Olympics.
It was quite technical and she skied her way to 2 silver medals.
Unfortunately she missed on winning a gold medal when she was the race leader, and in a major mix-up, skied down the lap lane when she was supposed to be in the finish lane.
She wound up 4th after backtracking, then skiing as hard as she could to the finish.
She accepted this, and congratulated the other competitors accepting a single red rose for her finish and sporting spirit.
Her strength is in her tenacity and commitment to doing her best.
Indeed she did "double pole and go fast to the finish" as she had promised her many supporters.
When asked what was the best part of being in Korea? her reply was "the skiing", although there were fun and interesting cultural events also.
She skis at Hiawatha Highlands with Special Olympics Sault Ste. Marie and Soo Finnish Nordic.
Thanks to everybody for the great support and encouragement over the years.
Thank you
Margaret Barbeau
*************************
Photo courtesy of

SpecialOCanada