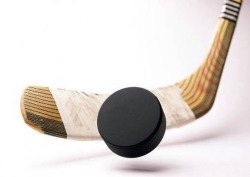 The 2014 Dudley Hewitt Cup wrapped up on Saturday night in Wellington, Ont. and the tournament champions have a Sault Ste. Marie native behind the bench.
Jason Fortier, a Sault native who coaches the Toronto Lakeshore Patriots of the Ontario Junior Hockey League, has led his team to the Dudley Hewitt championship after a 2-1 victory over the host Wellington Dukes on Saturday night.
The Patriots now advance to the RBC Cup, scheduled to open up on May 10 in Vernon, BC, where they will represent the central region in the five-team event.
Rory Bell had the game-winning goal for Toronto Lakeshore on Saturday night. Former OHL player Andreas Tsogkas also scored in the win while goaltender Evan Buitenhuis stopped 21 shots.
Toronto went 2-1 in the round robin with their lone loss coming to the Dukes on the final day of the round robin. The Patriots needed a 6-0 victory over the Superior League's Fort Frances Lakers in the semi-finals to advance to the championship game.
The Dukes featured a pair of Sault natives on their roster in forward Chad Thibodeau, who picked up a goal in Saturday's loss, as well as defenceman Kyle Paat. Behind the Dukes bench is former Soo Greyhounds coach and goaltender Marty Abrams.
Thibodeau had two goals in four tournament games while Paat assisted on three goals.