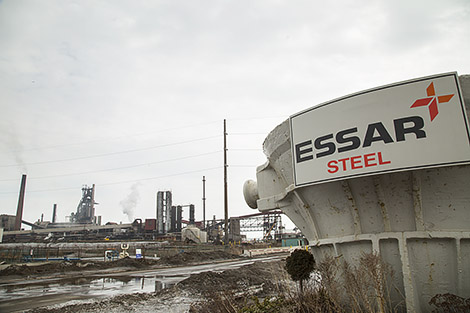 Essar Steel Minnesota LLC, the massive unfinished taconite facility on Minnesota's Mesabi Range, may be sold, according to reports quoting an inside source close to decision-makers at Essar's corporate headquarters in India.
Live Mint and the Wall Street Journal reported May 21 that the project could be on the blocks as part of a $4.4 billion package of assets the Mumbai based Essar Group is considering selling off, according to a source who asked not to be identified because the "deliberations were confidential."
The sale reportedly could take place after the taconite plant becomes operational (something Essar Steel Minnesota officials have forecast would happen late in 2015) and would be valued about $2 billion including net debt.
Essar Group has not confirmed the accuracy of the report, telling the news outlets that as a policy, they do not comment on speculation.
SooToday.com asked Essar Steel Algoma if the parent company also was considering selling its steel assets in the Sault.
ESA's president and chief executive officer, Kalyan Ghosh, sent the following brief reply: "There are no plans to sell Essar Steel Algoma. Essar has made a strategic investment in the steel works with a longterm view to further optimizing the facility and its presence in the North American marketplace."
The Indian-owned multinational corporation bought the mining rights to over two billion metric tonnes of iron ore deposits in 2007 for an estimated $1.6 billion U.S., shortly after its purchase of Algoma Steel for $1.63 billion.
The proposed facility, located near Nashwauk, Minnesota in the Mesabi Iron Range, has a long-term contract to deliver taconite pellets to Essar Steel Algoma beginning in 2017.
The Sault steelmaker has also extended its contract for iron ore pellets with Cliffs Natural Resources, set to end in 2016, until 2024.
Since its purchase, however, work on the new plant has been plagued by several work stoppages that has pushed back the completion target from 2011 to 2015.
Last fall and this February, contractors at the site stopped work, and several filed liens estimated around $12 million against the owners for money owed them in arrears.
ESML officials announced May 14 in a news release, however, they have raised $450 million in bond financing to resume work on the project.
Madhu Vuppuluri, ESML's President and CEO, said in that statement: "We are delighted to have completed this important financing, which marks a significant milestone for ESML as we move ahead to deliver our seven million tonnes of pellet production capacity in Minnesota."
The media release, however, did not say when the labour dispute would be resolved, or when work would resume on the new facility.