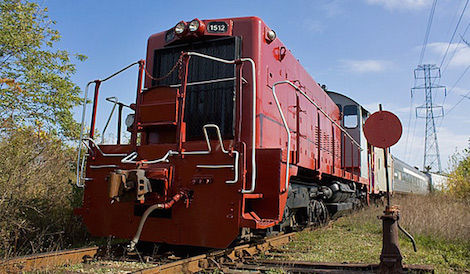 It is not clear what will happen next after Sault to Hearst passenger rail service ends July 15.
A joint news release issued today by CN and the ACR regional stakeholder passenger service working group stated passenger service will cease on that date as rail operator Railmark Canada Ltd. has been unable to obtain financing to operate the line.
"The three parties, CN, the working group and Transport Canada, continue to explore options and solutions to address this situation and talks are ongoing," said Mark Hallman, CN director of communications and public affairs, speaking to SooToday Thursday.
Hallman would not confirm if those options include looking for another third party rail operator for the line.
"We're not going to categorize any one specific option, but we're continuing to explore short and long term solutions to resolve this situation," Hallman said.
"It's unfortunate that Railmark hasn't satisfied its obligations," said Christian Provenzano, Sault mayor.
City council accepted a recommendation at its June 22 meeting, from working group interim chair and Sault EDC CEO Tom Dodds, to not sign a final agreement with Railmark regarding operation of the passenger rail service between Sault Ste. Marie and Hearst due to Railmark's ongoing financial challenges.
"There are a lot of parties that want to see the passenger rail operate and the city has worked hard to help that come to pass, put time and resources into this process for over a year…I'm not sure what the next stages are," Provenzano said.
Dodds told SooToday after council's June 22 meeting that $5.3 million in federal funding over a three-year period is still available for another third party operator to run the passenger service if Railmark failed to secure a required line of credit.
Dodds was not immediately available for comment Thursday.
A news release issued earlier Thursday follows.

***************************
Statement by CN and ACR Regional Stakeholder Passenger Service Working Group

Sault Ste. Marie-Hearst, ON., passenger train service to cease July 15 after rail operator, Railmark Canada Ltd., unable to obtain financing

The passenger train service between Sault Ste. Marie and Hearst, ON, will cease July 15, 2015, CN said today.

The termination stems from the inability of the train's current operator, Railmark Canada Ltd., to obtain financing.

CN discontinued its operation of the passenger train on May 1, 2015.

CN, the ACR Passenger Service Stakeholders Working Group and Transport Canada have been in regular discussions and continue to explore short- and long-term solutions to resolve this situation.

CN will continue to operate the Agawa Canyon Tour Train daily for the season ending Oct. 12, 2015.

The tour train takes passengers on a one-day wilderness excursion 114 miles north of Sault Ste. Marie.

***************************