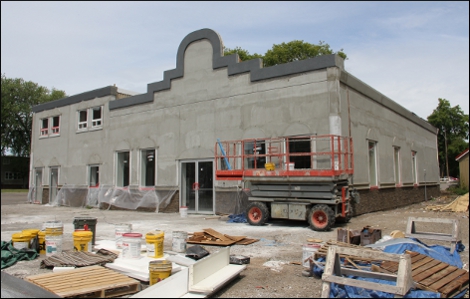 Construction of a mosque has been quietly underway since summer in downtown Sault Ste. Marie, SooToday has learned.
The former Sault This Week building at 2 Towers Street (behind Precious Blood Cathedral) has undergone extensive interior and exterior renovations for its new tenant, the Islamic Association of Sault Ste. Marie.
In recent months, the local Islamic community has met for Friday jumʿah prayer, children's Qur'an classes and other morning and evening prayer times and social events in a small musallah at 677 Macdonald Avenue.
The Islamic Association of Sault Ste. Marie's board is looking to hire an imam to officiate at the new, full-sized mosque, which is scheduled to open in early November.
Mayor Christian Provenzano and other dignitaries will be invited to the official opening.
Planting the Sault's first recogniized mosque has largely been the work of a small, dedicated group of Muslim physicians.
Feast of Sacrifice
Sault Ste. Marie's Islamic community celebrated Eid al-Adha (the feast of sacrifice) last night at Algoma University.
The lavish and well-attended event, featuring traditional food, singing and folk dancing, as well as gifts and explanations of Islamic faith and culture, was organized by the Saudi Students Association of Sault Ste. Marie.
Eid al-Adha is one of two holidays celebrated each year by Muslims worldwide.
It marks the end of the annual Hajj pilgrimage and commemorates the willingness of Abraham and his firstborn son Ismail to obey God.
The Sault's first Muslim arrived two decades ago.
Sault Ste. Marie now has approximately 10 Muslim families and about 200 foreign exchange students from Saudi Arabia.
The first halal restaurant in Sault Ste. Marie, Tandoori Gardan, opened two years ago at 663 Queen Street East..
(PHOTO: Work was well underway in early August to convert the former Sault This Week offices at 2 Towers Street into a downtown mosque. David Helwig/SooToday)