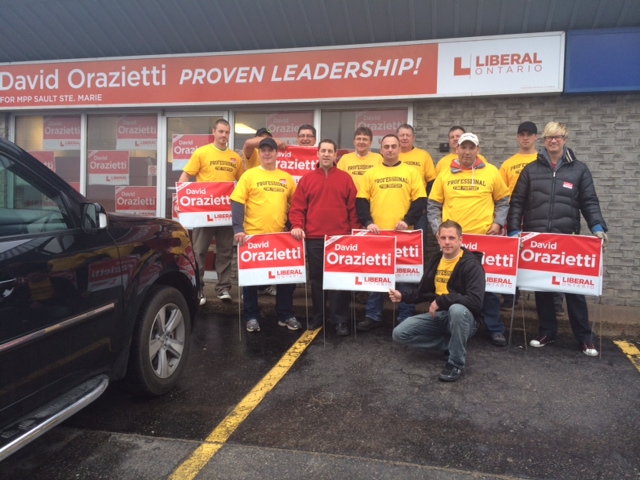 NEWS RELEASE
DAVID ORAZIETTI CAMPAIGN
*************************
Ontario Liberals Committed to Strengthening Public Services
Members of Sault Ste. Marie's Professional Firefighters met with David Orazietti at his Campaign Office on Great Northern Road before volunteering to put up re-election signs throughout the community.
"David offers a strong voice for our community and has continued to deliver positive results for Sault Ste. Marie year after year," said Rob Greve, President of the Sault Ste. Marie Professional Firefighters.
"I am very pleased with the Liberal government's plans to increase on-the-job protections for firefighters. I'll be voting for David on June 12 because I believe he is the best representative for our city."
In April, the Ontario Liberal government announced it is helping firefighters and their families by adding six cancers to the list of those presumed to be related to their work.
These changes make Ontario a leader in protection for firefighters and will make it easier for firefighters to access benefits through the Workplace Safety and Insurance Act.
"The Liberal party recognizes the significant sacrifices firefighters make in the line of duty, which is why we are working to do everything we can for their health and safety," said Orazietti. "Professional Firefighters volunteered their time because they understand the importance of strengthening public services and that the progress we have made is at stake in this election."
*************************