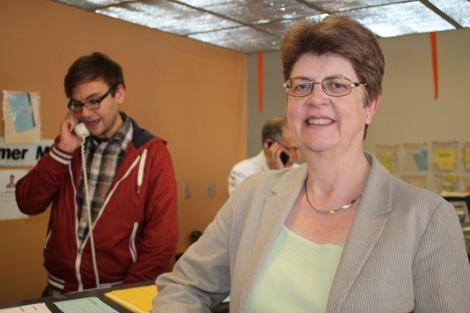 The provincial NDP has taken aim at costly gas plant cancellations and other controversial expenditures under the current Liberal government at Queen's Park throughout this provincial election campaign.
After NDP leader Andrea Horwath released her official campaign platform Thursday, Sault NDP candidate Celia Ross (pictured with campaign office staffers) said the NDP has calculated gas plant cancellations, eHealth and Ornge have cost Ontario taxpayers approximately $3 billion.
Broken down riding by riding, Ross said Friday that would have amounted to $28 million for services in Sault Ste. Marie.
Ross spoke to SooToday.com Friday at her campaign office to voice her support for Horwath's campaign platform.
"It's a very accountable platform, one that will balance the budget by 2017 -2018, the same target date as the Liberals, but while we balance it we'll be mindful of the real needs of the people and our businesses that create jobs for people," Ross said.
The NDP plan is based on the three cornerstones of job creation, affordability and accountability, and will benefit Sault Ste. Marie under a New Democrat government, Ross said.
Ross said Ontario has lost thousands of manufacturing jobs during the Liberal tenure, noting job losses with the closure of St. Marys Paper and layoffs by other large manufacturers locally.
"We're going to have a manufacturer's tax credit, and that's absolutely key for manufacturers like Essar to reinvest in equipment."
"What's been happening with the Liberals is no strings attached tax giveaways to corporations and they have been amassing money and sitting on it, so we've got to get that money moving to create jobs here in the Sault," Ross said.
Ross said an NDP government would reduce provincial taxes small businesses pay, from 4.5 percent to 2 percent, to help them meets costs and hire more staff.
"Small businesses are very proud of their employees and usually want to hire more, and we want to help them do that, and tax relief is one way."
Ross criticized plans to modernize OLG.
"Modernization means privatization, and under privatization will there be an OLG head office at all?" Ross said.
"Jobs could move away from Ontario through modernization…we need to keep those OLG jobs here in Sault Ste. Marie."
"The government should run its own businesses like OLG and the LCBO, be proud of what we own and run those businesses well," Ross said.
On the topic of affordability, Ross said the NDP would take the provincial tax off hydro bills "immediately."
The NDP, Ross said, plans to merge Ontario's four current electricity agencies into one and cap CEO salaries.
"The CEO of one of those companies makes $1.6 million a year…I think all four of them could run under one CEO."
Ross said the NDP would carry through on a promise to cut auto insurance rates by 15 percent (under the Liberals, those rates are down by 6 percent), inject $100 million into childcare which would help address the need for more subsidized childcare spaces in Sault Ste. Marie, put nurse practitioners into hospital ERs across Ontario to trim wait times, create 1,400 long-term care beds for people who need transitional care after being released from hospital, and guarantee homecare within five days.
1,000 educational assistants would also be hired to help out in Ontario schools as teachers address the complex needs of children with disabilities.
In regards to accountability, Ross supported the idea of appointing a financial accountability officer to keep an eye on taxpayer money and avoid overspending.
"We're very keen on setting up a financial accountability office to tell the people of Ontario how much projects will cost," Ross said.