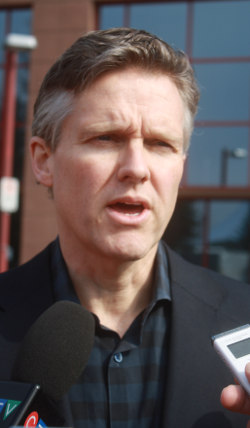 The casino in Sault Ste. Marie will be moving to private-sector management, says Ontario Lottery and Gaming (OLG) President and Chief Executive Officer Rod Phillips.
OLG is moving all of its gaming facilities to the private sector, he said yesterday.
Sault Ste. Marie was Phillips' (shown) first stop in a province-wide series of visits to all OLG sites.
During a media scrum outside the Roberta Bondar building Monday, Phillips said that while OLG doesn't plan to close any more of its gaming facilities, they don't have to be staffed by government employees.
"Currently, about 60 percent of the people who work in gaming in Ontario work for provincially regulated private operators," said Phillips. "The announcement last week said that the rest of our gaming sites will move to private-sector operators that are regulated and overseen by OLG."
Phillips said the employees at the gaming sites are among the most highly trained, skilled and experienced in their field so it is very likely they would be working for private operators assuming the management of the gaming sites.
"This is still going to be a government organization, owned by the government, owned by the taxpayers," he said. "In the case of the gaming sites, as it is for the majority of employees around Ontario, they'll be working for regulated private-sector operators under us."
Phillips was in town Monday to meet with OLG employees, the city Mayor and Chief Administrative Officer and with members of the media.
He said he was here to answer questions about OLG's comprehensive five-year plan to modernize and revitalize gaming in Ontario.
"It's a comprehensive plan," he said. "It has $1.3 billion for health care and education at the end of five years."
Phillips declined to share any details of exactly what that plan to privatize the Sault Ste. Marie casino would mean to Saultites - or when it might happen - until he's had a chance to share that information with staff.
Sault MPP David Orazietti will be joining Phillips at the Sault Ste. Marie OLG headquarters in the Roberta Bondar building later this morning for another media conference.
Earlier SooToday.com coverage of this story
Close one OLG head office - recommendation to government
Loss of OLGC would be devastating to the Sault: Amaroso to McGuinty
EDC writes to McGuinty. Says Sault is the only OLG headquarters location
Time to rally around local OLG employees, says Sheehan
'All told, OLG would be a much smaller organization' - report
Orazietti writes to McGuinty again about OLG's future here
Hundreds lose jobs because of McGuinty's OLG moves: OPSEU
Straight from the OLG's mouth
McGuinty government will decide Lottery Corp's future: OLG president
Sault casino to be privatized: OLG top dog