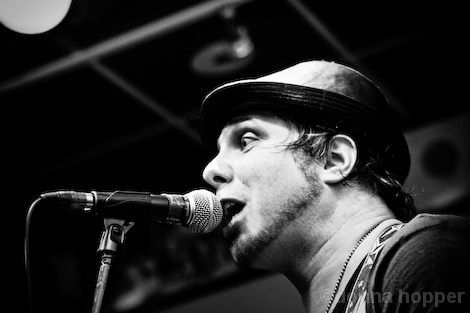 The house was hopping Saturday night as the Rockstar Bar hosted Dustin Jones and the Rising Tide to help the boys celebrate the release of the their third CD, Dancing Our Demons Away.

Despite the dancing frenzy, SooToday.com isn't sure many demons got exorcised that night.

The celtic punk four-piece features front man Dustin Jones (guitar, vocals), Marshall Jaaskelainen (upright bass, vocals), Sheldon Jaaskelainen (fiddle, vocals), and Mikey Hawdon (drums).

Dancing Our Demons Away was recorded, produced and engineered by Jones in his home studio, Mission Control.

If you missed last weekend's Rising Tide gig, you can catch them on the road at Fionn MacCool's in Mississauga tonight, Toronto's Cadillac Lounge on Thursday, and Boston Pizza in Whitby Friday night.

Or, if you don't feel like taking an extended road trip, Dustin Jones and the Rising Tide will be playing the Rockstar Bar on December 21.

To find out more about he band or to purchase Dancing Our Demons Away, please click here.