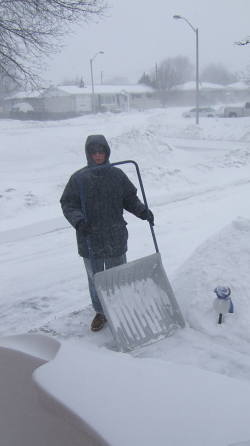 SPECIAL WEATHER STATEMENT
ENVIRONMENT CANADA
*************************
SPECIAL WEATHER STATEMENT FOR: SAULT STE. MARIE - SUPERIOR EAST - GREATER SUDBURY AND VICINITY - ELLIOT LAKE - RANGER LAKE - MANITOULIN - BLIND RIVER - KILLARNEY - NORTH BAY - WEST NIPISSING.
SOME FREEZING DRIZZLE TODAY ESPECIALLY NEAR SAULT STE. MARIE.
SNOWFALL OF 10 TO 20 CM TONIGHT AND MONDAY.
A WEAK DISTURBANCE CROSSING NORTHEASTERN ONTARIO TODAY HAS AN AREA OF SNOW ASSOCIATED WITH IT, AS WELL AS SOME PATCHY FREEZING DRIZZLE OR EVEN BRIEF FREEZING RAIN IN THE SAULT STE MARIE AREA.
MOTORISTS SHOULD EXERCISE CAUTION TODAY AS UNTREATED SURFACES MAY BE ICY AND SLIPPERY AT TIMES DUE TO THE FREEZING PRECIPITATION.

MEANWHILE A LOW PRESSURE SYSTEM DEVELOPING OVER COLORADO WILL TRACK TOWARD THE GREAT LAKES TONIGHT AND MONDAY. SNOW AHEAD OF THIS LOW WILL REACH SAULT STE MARIE THIS EVENING, THEN SPREAD TO SUDBURY AND NORTH BAY OVERNIGHT.
SNOW WILL END MONDAY NIGHT.
GENERAL SNOWFALL AMOUNTS OF 10 TO 15 CM ARE EXPECTED WITH THIS SYSTEM.
THE HIGHEST AMOUNTS ARE LIKELY TO BE OVER THE MANITOULIN REGION, WHICH MAY SEE 15 TO 20 CM OVER A PERIOD OF ABOUT 18 HOURS.
THIS IS JUST SHY OF THE WARNING CRITERIA OF 15 CM IN 12 HOURS.

THE EXACT TIMING AND AMOUNT OF THE PRECIPITATION WILL DEPEND ON THE TRACK OF THE LOW. AS THIS SYSTEM IS DEVELOPING, THERE IS SOME UNCERTAINTY IN THE EXACT TRACK OF THE LOW.
ENVIRONMENT CANADA IS MONITORING THIS SYSTEM CLOSELY AND WILL ISSUE FURTHER STATEMENTS AND WARNINGS AS NECESSARY.
PLEASE MONITOR THE LATEST FORECASTS AND WARNINGS FROM ENVIRONMENT CANADA AT
WWW.WEATHEROFFICE.GC.CA
.
THE PUBLIC IS ADVISED TO MONITOR FUTURE FORECASTS AND WARNINGS AS WARNINGS MAY BE REQUIRED OR EXTENDED.
*************************