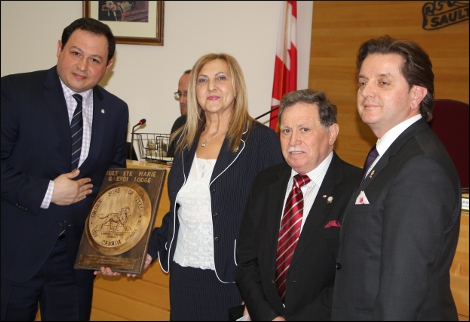 Canada's oldest Sons of Italy lodge, established here in Sault Ste. Marie in 1915, tonight presented Mayor Christian Provenzano with a plaque recognizing its 100th birthday.
The Sault's G. Verdi Lodge was started as a social club for Italian immigrants in 1914 by Father J.P. Martinez, a dedicated Catholic priest.
The following year, Father Martinez persuaded the group to seek affiliation with the then-10-year-old Order Sons of Italy in America.
In 1964, the group built its own facility in the Sault.
By 1989, G. Verdi Lodge was supporting 16 local charities.
Shown with the mayor at the Civic Centre are Order Sons of Italy of Canada National President Josie Cumbo, Immediate Past National President Fernando Forcucci and Second National Vice President Carmine Filice.
Also in attendance tonight was John Chiappetta, grandson of one of the lodge's founding signers.
The wooden plaque presented to Mayor Provenzano tonight was handmade by Tina Destro, national recording secretary of the Sons of Italy Canada.
The following is the organization's history, as recorded on its official website:
*************************
The Order Sons of Italy was formed in New York City in 1905 by Dr. Vincenzo Sellaro and a small group of individuals devoted to caring for the Italian immigrant in the early days of the 20th Century.
The first lodge in Canada was formed in 1915 in Sault Ste. Marie, Ontario as a mutual benefit society, to provide financial help and protection to Italian immigrants.
It thus played a very important part in the lives of early immigrants providing material and spiritual support in times of illness, accident and death.
At the same time, the order served as social and recreational centres.
The Order Sons of Italy Canada has grown in strength and numbers since that time.
It is currently a multi-faceted and dynamic organization serving the needs of the community in general.
Its endeavors currently include public housing, retirement and nursing homes, charitable fund-raising and giving, and support of the arts and the promotion of Italian culture.
Currently, there are 15 lodges in Canada: over 3,000 lodges in the U.S.A, Bermuda and Hawaii.
It is the largest fraternal order of Canadians and Americans of Italian origin.
At first, only persons of Italian origin made up the Order Sons of Italy.
Because of many marriages of Italians with non-Italians, now membership is open to persons of Italian birth or descent, or married to a person of Italian birth or descent, regardless of religious faith or political affiliations.
The order's fundamental concept, its philosophy, as contained in the purpose clause of its constitution, is simple.
It contains three themes:
belief in God

the brotherhood of man

government by law
*************************