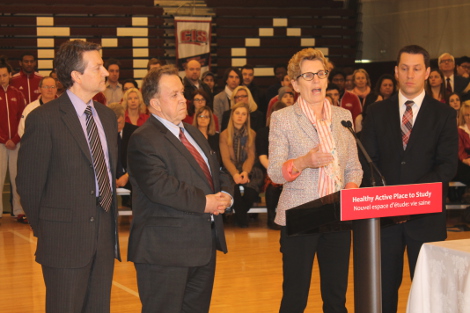 Kathleen Wynne told reporters Monday's trip to Sault Ste. Marie was planned for "many weeks" after NDP MPPs walked out of the legislature and accused the Ontario premier of using the visit to hide from the gas plant scandal.
Wynne, on her third visit to Sault Ste. Marie since becoming Premier in February 2013, was joined by Sault Ste. Marie MPP and Minister of Natural Resources David Orazietti and Minister of Northern Development and Mines Michael Gravelle at Algoma University's George Leach Centre Monday afternoon.
Earlier Monday, the Premier made a visit to the Soo Curlers Association to meet with Sault Ste. Marie's own Canadian Olympic gold medallists Team Jacobs and Paralympic gold medallist Mac Marcoux, followed by a visit to Francis H. Clergue Public School.
The Premier (pictured with Algoma University President Dr. Richard Myers, Ministers Gravelle and Orazietti) was at the George Leach Centre to celebrate the announcement of $2 million in provincial funding for an expansion of the athletic facility, as well as $427,000 in provincial funding for new hydroelectric equipment for Soo Foundry & Machine.
However, the noteworthy visit by the Premier and funding announcements took place as political tensions escalate at Queen's Park.
Opposition Leader Tim Hudak, leader of Ontario's Progressive Conservatives, has made allegations that Wynne knew that several computer hard drives in the Premier's office were wiped clean, erasing data connected to what the opposition Tories, the NDP and other critics have called "the gas plant scandal."
The provincial government, under former Premier Dalton McGuinty's leadership, cancelled gas plant projects in Oakville and Mississauga, a move which is estimated to have cost $1.1 billion, and the deletion of government emails concerning the gas plants is now part of a police probe into the gas plant cancellations.
Hudak has claimed Wynne "oversaw and possibly ordered the criminal destruction of documents."
That claim was also posted on the PC party's website.
Hudak's allegations suggest an individual deleted the data after she officially took over as Premier from McGuinty February 11, 2013.
Wynne has asserted she has no knowledge of anyone destroying information under her watch as Premier.
A staffer in Wynne's office, in an email Sunday, stated: "Contrary to Mr. Hudak's false statements, this did not happen after Premier Wynne was sworn in February 11, 2013."
"The allegations pertain entirely to activities in the former Premier's Office."
In an open letter to Hudak released Sunday, Wynne called Hudak's remarks "false, misleading and defamatory."
In her open letter to Hudak, Wynne wrote: "I am asking you and your caucus to immediately stop repeating these untrue statements and to immediately remove them from the PC Party website and all other communications."
"I have sought and obtained legal advice regarding your comments, and if steps are not taken immediately, I will have no choice but to take all necessary and appropriate steps to ensure your false statements are corrected."
Hudak has not withdrawn his claims, and the provincial NDP walked out of Question Period at the Ontario Legislature Monday to protest Wynne's absence in the face of such allegations.
In a news release Monday, Algoma-Manitoulin MPP Michael Mantha, a New Democrat, stated: "This last minute arrangement made to spirit the Premier to Sault Ste. Marie is yet another example of government cover-up and another example of this government's disrespect towards Northerners."
"The Premier used the people of Sault Ste. Marie to hide from her government's scandal," Mantha stated in the release.
After addressing an audience gathered at the George Leach Centre Monday, Wynne told reporters: "A letter has gone today from the lawyer who is giving me advice and has been sent to Mr. Hudak this afternoon, a letter confirming what I said in my open letter, but this is a formal legal letter."
As for the NDP's protest walk out of the Legislature Monday, Wynne said: "This trip (to Sault Ste. Marie) has been planned for many weeks."
"My response is just that it is my responsibility as the Premier to travel this province, to work with all communities in this province."
"My schedule is organized weeks and weeks in advance, and I will be back in the Legislature tomorrow and all of the questions that they wanted to ask today, they can ask me tomorrow."
A list of witnesses in a police probe concerning the gas plant scandal now includes an outside information technology expert who was brought in to perform computer work for the Liberals.
Wynne told reporters the individual concerned did not work for her, and that the individual no longer provides any services to the Liberal Party at all, in light of the allegations.
What will unfold next regarding Hudak's allegations and Wynne's intention to resort to legal action against those allegations is not certain.
Neither is it certain if the PCs and NDP will vote against the Liberals government's next budget, which would send Ontarians to the polls.
Wynne spoke confidently of the upcoming budget.
"I believe there will be much in that budget that could be supported by both parties on the other side of the House, but I can't predict exactly what their decisions will be," adding she hoped the PCs would at least agree to examine the budget before making a choice to vote against it.
Wynne planned to remain in Sault Ste. Marie for part of the late afternoon and early evening for meetings with local business leaders before returning to Toronto.
*************************
More SooToday.com coverage of the Premier's visit on Monday