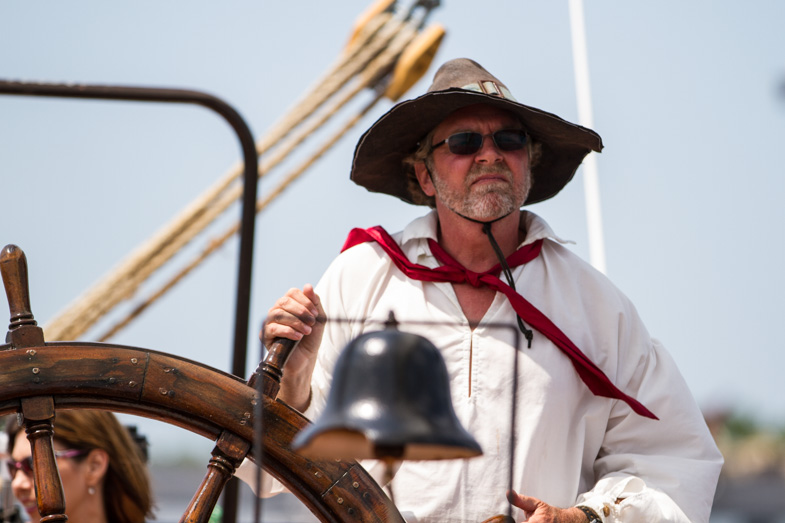 Liana's Ransom - an 85-foot long two masted, gaff rigged, square top sail schooner - has been docked in Sault Ste. Marie offering 90-minute St. Marys River excursions since this past Thursday as part of this year's Rotaryfest celebration.

She enjoys two home ports - Halifax, Nova Scotia in the summer and Tortola, the British Virgin Islands in the winter - and has been captained by Joseph Tilley (pictured) for the past eight years.

SooToday.com joined Captain Joe and his crew, Olivia Renshaw, Lucas Haberer, and Greg Gilbert who's originally from Granada, Nicaragua (a real life pirate of the Caribbean) yesterday afternoon with about 60 other visitors.

Also aboard was Captain Joe's son Ryan who recently acquired his own captain's license.

"I have to watch myself," Captain Joe jokingly told us. "I could have a mutiny on my hands. He can legally take over my ship now."

Guests aboard Liana's Ransom were invited to dress the part and join the pirate crew in hoisting the sails, firing the four black powder cannons, and swinging from the yardarm.

There was even a short a battle between the Liana's Ransom on the water, and local voyageurs and British soldiers stationed on land at the Canadian Bushplane Heritage Centre.

Prior to the firing of the cannons, Captain Joe spoke to the ship's guests about the history of the schooner; what it was like to be a pirate or privateer in the late 1700s and early 1800s; and outlined some of the best, worst and most famous pirates and privateers of the era.

"Most pirates, once they actually began pirating, had very short careers," Captain Joe said.

Black Beard, arguably one of the most famous pirates in history, only lasted about 22 months before his head was removed in battle and returned to the United States for the bounty.

Bartholomew Roberts, also known as Black Bart, was one of the most successful captains of the golden age of piracy, capturing more than 450 vessels in his four-year career before taking cannon fire to the throat and being buried at sea by his crew.

"Johnny Depp has had a far longer run in the Pirates of the Caribbean franchise than any of these guys did in history," Captain Joe joked.

There are still opportunities to enjoy some time aboard the Liana's Ransom as she sets sail this afternoon at 4 and 7 p.m.

Tickets are $40 for general admission and $34 for children and seniors and can be purchased at the Roberta Bondar Transient Marina from 9 a.m. until 8 p.m. daily.

For more information, contact the Roberta Bondar Transient Marina at 705-759-5430.