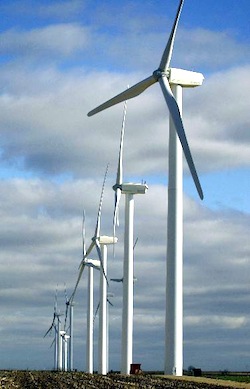 Local candidates in the provincial election campaign shared their thoughts on the sustainable energy sector in a discussion Thursday.
Candidates were asked by visiting members of the Toronto-based Ontario Sustainable Energy Association (OSEA) how each party would ensure sustainable energy remains a part of Ontario's energy supply moving forward, how important they feel the sustainable energy sector is in job creation, and what role they see for green energy in the province's economic and energy landscape.
"We must live within our means, and by eliminating the deficit (currently at $12 billion) we will have sustainability (in energy) going forward," Progressive Conservative candidate Rod Fremlin said.
Fremlin criticized former Ontario premier Dalton McGuinty for establishing the Ontario Power Authority, saying that it has become a bloated bureaucracy costing Ontarians $80 million a year.
"We must take advantage of cheap and abundant natural gas, and open access to affordable nuclear power and hydroelectricity…to restore the positive environment for energy-intense manufacturing which results in solid jobs to keep youth in Ontario," Fremlin said.
Fremlin also slammed the Liberal Green Energy Act, passed in 2009.
"The Green Energy Act has not delivered on the jobs it promised," Fremlin said.
Fremlin said only 10,000 jobs were created in the energy sector as opposed to the 50,000 that were projected by the Liberals, saying many of those jobs were temporary jobs involved in the construction of projects such as wind and solar farms.
"High energy prices are driving manufacturers to lower cost jurisdictions," Fremlin said, adding the Progressive Conservatives would get those rates under control.
David Orazietti, incumbent Liberal MPP, said the green energy sector was one that barely existed when the Liberals first came to power in 2003 and estimated 42,000 jobs have been created through Liberal development of the sector.
Orazietti said green energy is a job creator and job retainer for the Sault, saying that steel used in the construction of a wind farm near Windsor was manufactured at Essar Steel Algoma.
Orazietti defended the Green Energy Act as a responsible shift away from coal-fired energy, saying coal-fired energy cost Ontario's healthcare system $4.4 billion a year for the treatment of respiratory illnesses.
Celia Ross, NDP candidate, said she is a personal supporter of solar power in particular, but that not everyone can afford to install solar panels on their roofs.
"We need to assist people with retrofit grants and loans…those people need help and must be encouraged to take part in this energy revolution" Ross said, adding that developers need to be encouraged with incentives to build energy efficient buildings.
"High energy costs must be brought down to make sure manufacturing jobs are not lost," Ross said.
"The NDP believes power should be bought from Quebec, and we should not sell power to the United States for half of what it cost us to produce it."
Kara Flannigan, Green Party candidate, was clearly the most enthused about renewable energy at Thursday's discussion, which was held by OSEA and the Sault Ste. Marie Innovation Centre (SSMIC) at Algoma's Water Tower Inn.
"The city of Sault Ste. Marie has worked very hard with its partners to become the alternative energy capital of North America."
"Look at the diversity of projects we have…we have wind, hydroelectric, solar, cogeneration, natural gas, biodiesel," Flannigan said.
"All of these projects involved a lot of people in the planning, engineering and construction stages, and these systems, once they are built, need maintenance …that's why we have Sault College training people to take care of these things, and our future looks great."
Flannigan said she looks forward to the Innovation Centre's Smart Energy Plan coming to fruition.
That plan, it is estimated, will create 300 to 600 jobs in the community.
"Our city has shown everyone that we can do better, and Ontario must do better," Flannigan said.
The OSEA is a Toronto-based not-for-profit organization dedicated to sustainable energy, funded by its own member groups.
It has approximately 100 corporate members, and approximately 7,500 individual members.
Solar panel manufacturer Heliene Inc., with a facility in the Sault, is an OSEA corporate member.
The OSEA is currently on a four-city tour of Ontario during the current provincial election campaign, and learned of the Sault's green energy initiatives through Heliene and the Innovation Centre.