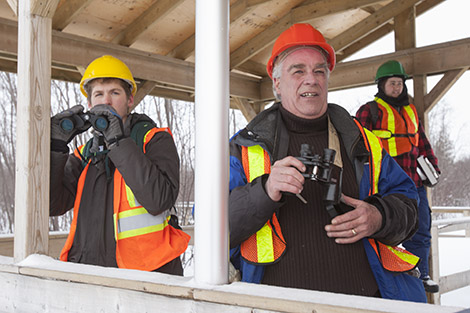 Local bird-watchers may have to wait a little longer than usual before they see some of their favourite species migrate back to the Sault area, according to "Birder" Bob Knudsen, who teaches ornithology at Sault College.

Knudsen takes his classes as far as Lake Superior Provincial Park, but for the first day of spring his ornithology class was spent conducting a bird survey on Whitefish Island, just across the Canadian locks.

"Sure they can sit in class and I show them all sorts of pictures of things, but it's not the same as getting out in the field," said Knudsen.

By now, Knudsen would expect to see many more migratory species of birds, but the extended cold weather has pushed Mother Nature's schedule by about two weeks.

"This is an unusual year," said Knudsen.
He said under normal circumstances he would have expected to see at least two or three robins during a survey at this time of year.

"Robins are up in Haviland and I've heard they're around the Chippewa (River) and most years we get robins that over winter but we haven't seen any migrants come back yet," added Knudsen.

Water fowl are heavily affected this year because many of the lakes and waters they rely on for finding food are still frozen.

"There should be a lot more ducks, but I've never seen the ice this closed in as much as it is this year and for as long," said Knudsen. "Normally it has already started to open by now and more ducks would have come".

Knudsen says if the Sault doesn't experience a warm spell before April then migration may get pushed back as far as three weeks.

Despite the cold weather students were treated to numerous bird sightings, including cedar waxwings, blackbirds, ducks, gulls and a bald eagle.

The cedar waxwings were a pleasant surprise this winter, said Knudsen, noting that they did not migrate away as usual because of a larger than normal wild berry crop.

"Normally we get bohemian waxwings that over winter here but cedar waxwings don't," said Knudsen.

Knudsen's students are enrolled in the fish and wildlife program at the college and the observation skills they learn during bird surveys can be handy in other areas of their study.

"The most important thing that I try to teach the students (is) it doesn't really matter if they memorize the birds, it's that they become more observant and more aware of their surroundings, said Knudsen.