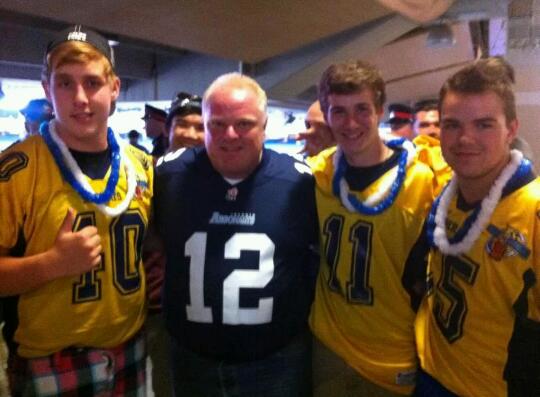 The Sault Sabercats Junior Varsity football team recently wrapped up their inaugural season, capped off by a visit to Toronto and a chance meeting with Mayor Rob Ford.

Although the team managed only one win, head coach Marco Bernabucci said the team got better every game.

"We knew we were going to take our lumps, being a new team in the league but we knew if we worked hard, get better every week and build on it for next year," said Bernabucci.

The junior varsity team filled a gap in Sault Ste. Marie football, creating competitive teams for boys age eight all the way up to the end of high school.

"It's going to make Sault Ste. Marie football that much better," said Bernabucci.

After the team finished their season in a road loss against the Brampton Bisons, the parents organized a trip for the junior and senior varsity teams to attend a Toronto Argonauts game on July 12 at the Rogers Centre in Toronto.

The kids were invited to watch pre-game warm-ups, Bernabucci said it showed them how the professionals take pride in everything they do, including practice.

"At that level, just being down there for pre-game warm-ups they see the intensity the players have. Step by step what they are doing to get ready for a game," he said.

After the Argonauts game the players were able to meet with some retired players

"You had the old guys, the coaches and stuff talking to Pinball Clemons and ex-grey cup winners," said Bernabucci, who didn't even notice when Toronto Mayor Rob Ford walked right past him.

The kids were more interested in having their photos taken with Ford, who has skyrocketed to celebrity status in the last year, appearing on Jimmy Kimmel Live and YouTube videos too numerous to mention.

Despite his infamy, Ford is well-respected by many within the youth football community, having been long-time volunteer coach of Etobicoke's Don Bosco Catholic Secondary School.

While Ford was taking photos with the kids, he was asking them how their season was, said Bernabucci.

"It was a good experience for the kids," said Bernabucci.
(PHOTO: Sault Sabercats Senior boys football players L-R Noah Smith, Chris McShane and Logan Lloyd pose with Mayor Rob Ford July 12, 2014 in Toronto. SUBMITTED PHOTO)