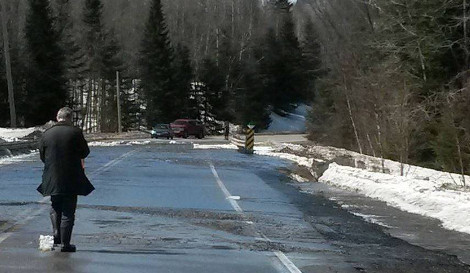 10:15 a.m. update
A number of loyal SooToday.com readers have informed us that the Searchmont Highway (Hwy 556) is open to one lane allowing access to Searchmont Resort which is open today.

An update posted this morning to the MTO website states that the Highway is open to local traffic only due to flooding near Rainbow Creek Bridge.

MTO advises that travellers take the following detour to access Searchmont Resort: Hwy 129 to Ranger Lake Rd. to Hwy 532.
************************
Original advisory - 4:30 p.m. Friday, April 11
Sault Ste Marie Detachment of the Ontario Provincial Police advise of the following Road Advisory:
Location: Hwy 556 closed between Hwy 552 and Hwy 532
Brief Description of Event: Hwy closed due to flooding at Rainbow Creek Bridge.
Detour (if available): Access to Searchmont via Hwy 129 to Ranger Lake Rd to Hwy 532
Estimated duration of Road Advisory: Unknown
O.P.P. Media Contact: The O.P.P. will distribute details and updates of the road advisory as information becomes available.
Please do not call O.P.P. Provincial Communication Centres for road advisory updates or road condition information.
Visit the Ontario Ministry of Transportation website at http://www.mto.gov.on.ca or call 511 for Traveller's Information such as Winter Road Conditions, Construction Reports, Road Closures, Traffic Reports, Traffic Cameras and Interactive Mapping.
************************
Photo via Searchmont Community Volunteer Fire Department Facebook page.