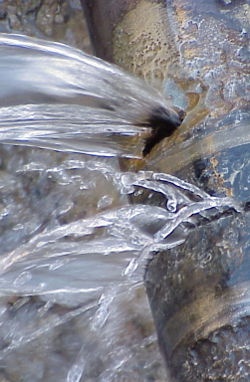 SooToday has been contacted by the individual whose truck sunk in the road yesterday.
"I just wanted you to know what a great job the PUC did for us," said the message. "They were more than professional right from the young man who set out the pilons to the supervisor who came to follow up with me this morning and make sure everything was okay."
The PUC response to the incident was prompt, courteous and efficient, said the message.
"It was a big job and they had it finished in just a matter of hours with a minimum of disturbance to neighbours in the area of the rupture."
**********************
Original story Sunday, 9:14 p.m.
At about 5:30 this afternoon a resident on Killarney Street found a soft spot on the road in front of his or her driveway, reports Sault Ste. Marie Police Service.
"The person was attempting to back into a driveway when the tire of the truck sunk into the road through a pothole," said Staff Sergeant Monique Rollin today.
A watermain rupture was discovered in the collapse of the road, says a spokesperson for the PUC.
He reports that he expects to be working on repairs to the main for most of the night.
Killarney Road, which is near the Villa Inn Motel on Great Northern Road, will be closed between Great Northern Road and Terrance Avenue while PUC repairs the broken main.
Water will also be shut off to the houses on Killarney Road while the main is repaired.
The truck had to be towed out of the area of the collapsed road but sustained little damage, reports Rollin.
Sault Ste. Marie PUC repairs an average of 90 watermain breaks a year, most of which are in the older cast iron mains, says the PUC website.
It services, operates, maintains, constructs, repairs and replaces approximately 470 km of distribution mains to supply water to the people of Sault Ste. Marie and the Rankin community of Batchewana First Nation.
Just over half of those mains are made of cast iron.
The rest are made of ductile iron, PVC and concrete pressure pipe.