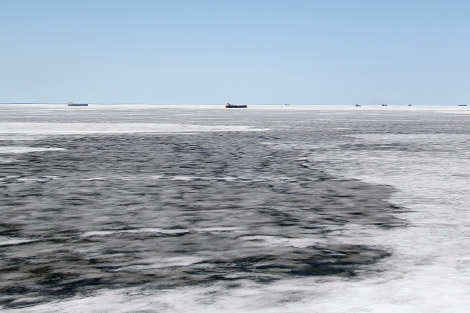 2:30 p.m. update
Brenda Stenta, manager of corporate communications for Essar Steel Algoma, says the ETA for the company's iron ore vessel is Sunday afternoon, subject to ice conditions.
Stenta had previously stated that there was a critical delay in iron ore shipments due to the ice conditions, but that production was continuing as iron ore was being sent by rail.
The Lake Carriers Association has reported that ore shipments on the Great Lakes were down 43 percent for the month of March over last year due to the thick ice formations.
*************************
Although shipping times are improving on the Great Lakes, there are still 60 vessels waiting to lock through to Lake Superior from the lower lakes, says Mark Gill, director of vessel traffic services for the US Coast Guard.
Two icebreaking vessels are now each leading convoys of ships, 5 at a time, through challenging conditions on the Lake Superior shipping channels, said Gill.

The Coast Guard works with the Great Lakes Environmental Research Laboratory (GLERL) to chart the ice thickness and overall ice coverage on the Great Lakes.

George Leshkevich, a physical scientist, recently spent 16 days on the US Coast Guard Icebreaker Mackinaw in a research role for GLERL under the auspices of the National Oceanic and Atmospheric Administration (NOAA).

"It was supposed to be five to seven days, but turned into 16 days because of the tough ice conditions," said Leshkevich.

The ice coverage on Lake Superior was recorded at 59.9 percent on April 22, compared to just 2.7 percent on the same date last year, said Leshkevich.

The ice coverage hit a high of 92.2% on Lake Superior early in March under the effects of the polar vortex, said Leshkevich, but that still doesn't match the record 94.7% ice coverage observed in 1979.

Leshkevich observed the thickest ice this year south of Michipicoten Island, recorded at 44 inches, which doesn't include being under 12 inches of snow.

Leshkevich was working on the Mackinaw as it opened the shipping channel late last March and into early April.
The Canadian Coast Guard icebreaker Pierre Radisson joined shortly after to assist in the operation.

Gill noted that ships taking four days to complete their journeys just a few days ago are now down to just 24 hours.

Although the ice coverage may be impeding commercial traffic, Leshkevich notes that there may be some ecological benefits to the extended cold weather.

Whitefish require stable ice cover for their spawning beds, so this could help them recoup between fishing seasons," said Leshkevich.
(PHOTO: Ships on Lake Superior observed April 23, 2014 near Gros Cap. SooToday.com Staff)