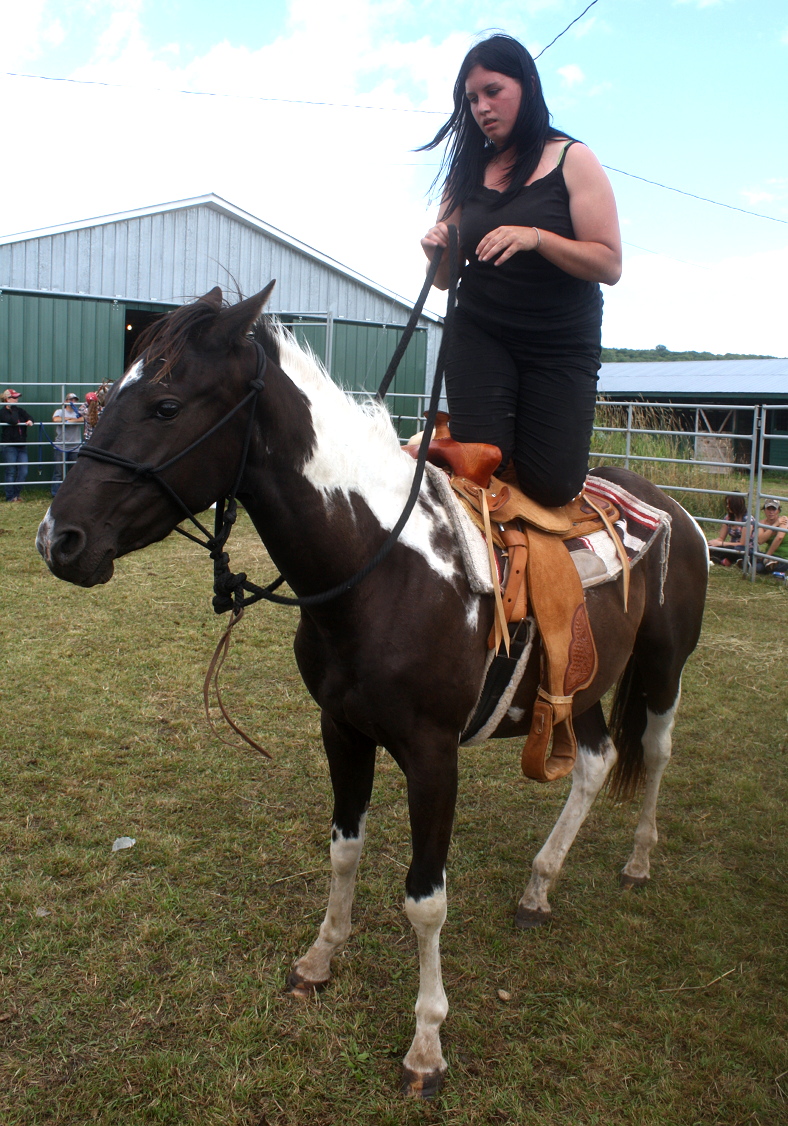 Earlier in the day at Laird Fair Rikki-Lee Bowen took a bad spill at a full out gallop around a barrel.
But, when SooToday.com found her a few hours later, she had her badly bruised ribs taped up and was working with Loretta, a colt from Sunset Ranch.
Bowen is one of six competitors in this year's colt training competition and she's a serious contender, even with her tender ribs.
"I've kind of developed my own method of training," said Bowen who has been working with horses since she was very young.
All six colts brought out for the competition are either two or three years old and they had never been ridden or had a saddle on in their lives - before Friday - says Sunset Ranch proprietor Kelly Fremlin.
Loretta was named after Loretta Lyn because her great grandmother was owned by the famous country and western singer.
The competitors have until 2 p.m. Sunday to train the colts for judging which will involve a course with challenges for the horses and riders.
Which ever pair best negotiates the course and meets all the challenges wins and the horse will then be auctioned off.
Also competing this weekend at Laird Fair is Britney Giundon, who is training a colt named Carolynn, after Fremlin's cousin because the colt was born on her cousin's birthday.
Guindon uses pressure and release techniques to train horses and seemed to be having considerable success with Carolynn.
Also at Laird Fair this year, on Saturday only, were a variety of other horse and rider competitions including barrel, pole and dash events.
In the barn at the fairgounds we found some rather interesting and odd looking chickens as well as some very knowledgable folks who could tell us all about them.
The fair continues tonight with live music.
Tomorrow the fair continues with the heavy horse pull, a dog show and other events as well as vendors, more music and food, among other attractions.