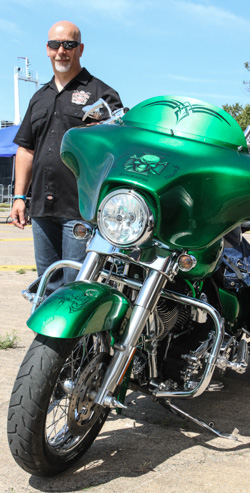 A sea of gleaming chrome greeted visitors to the Canadian Bushplane Heritage Centre today as Ride For Sight Sault Ste. Marie participants dusted off their rides for the weekend's Show and Shine event.

Dave Ostrowski-Gallant, chair of the Ride For Sight Sault Ste. Marie planning committee and assistant director for the local Harley Owners Group (HOG), told SooToday.com that approximately 100 motorcycle enthusiasts had registered for the weekend-long fundraising event.

Returning to Sault Ste. Marie last year after a lengthy hiatus, the Sault event is one of 11 Ride For Sight Canada events held across the country.

The organization originated in 1979, and Ostrowski-Gallant told us last month's 35th anniversary event in Orillia, Ontario saw more than 2,600 riders take part.

"I hope to grow our event that big some day," he said.

Ostrowski-Gallant estimates that 50 percent of this year's Sault event participants are local riders with others coming from across Ontario.

All proceeds from Ride For Sight go to support the Foundation Fighting Blindness, Canada's largest private and charitable funder of vision research.

Ride For Sight Sault Ste. Marie continues tonight and tomorrow at Searchmont Resort with bike games, live entertainment, awards and door prizes, a poker run, and food and refreshments.

"Anyone can take part in Ride For Sight, you don't have to ride to participate," Ostrowski-Gallant told us. "It's for anyone who wants to help or who has been affected by degenerative eye disease."

For more information about Ride For Sight, please click here.