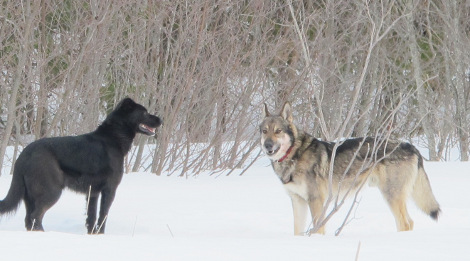 This photo was sent to us by loyal SooToday.com reader Peter Gagnon Saturday.
The photo was taken this past week by Margaret DeCourcy of Southern Ontario, while visiting relatives in Sault Ste. Marie, who then forwarded it to Gagnon.
The photo shows two well-cared-for dogs, one with a collar, and they certainly do not look hungry.
Regardless, residents of Alagash Drive and Pointe Aux Pins Drive claim the dogs have gone wild and killed three deer in the area.
Sault Ste. Marie Police confirmed to us Saturday that after receiving a call from an area resident early Friday afternoon, a Sault Police officer had to shoot a wounded deer in the Alagash Drive area after what appeared to be a dog attack.
City of Sault Ste. Marie Public Works officials took the carcass away.
Police told us a Sault Ste. Marie Humane Society officer was on scene investigating and is aware of the situation.
The Sault Ste. Marie Humane Society was not available for comment Saturday.
An area resident told SooToday.com: "Everybody out here is getting quite nervous about going out for a walk."
It is not known who or where the owner of the dogs may be, or if he/she has since been able to locate the dogs and bring them in.
We will have more details as they become available.