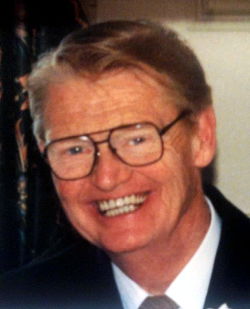 Sault Ste. Marie has lost a well-known and well-liked retired local broadcaster.
John Meadows, who worked in both local television and radio in a career that spanned decades, beginning in the 1950s, died Friday at Algoma Manor Nursing Home in Thessalon, after a battle with cancer.
He was 83.
In contrast to today's world of canned, pre-recorded newscasts and scripted chatter from DJs, with music piped in from communities like Sudbury and announced by people we don't know, Meadows was a truly local broadcaster who did everything "live," on TV or radio.
SooToday.com learned of Meadows passing from Russ Hilderley, another well-known retired local broadcaster who worked with Meadows.
"He had empathy mastered...when he was on the air you thought he was talking strictly to you and no one else," Hilderley said.
Hilderley recalled being impressed by Meadows when he started off at CKCY in 1963.
"I had no broadcasting experience at the time, and John took me into the commercial production department and said 'sit in the corner there and watch.'"
"We didn't have a real mobile unit yet, so John did this simulated remote broadcast, taken from some scribbled notes," Hilderley said.
"I was just absolutely dumbfounded as to how somebody could construct such a flow of information without really referring to notes, without having it written out, and just off the top of his head making it sound so believable that he was on site."
"I just marvelled at that," Hilderley said.
"He took me under his wing, and nurtured my career in broadcasting."
In his broadcasting career, Meadows did it all, without being confined to one department.
He delivered news and sports casts on both TV and in radio, did commercials, hosted remote broadcasts, and worked as a DJ and talk show host.
Hilderley fondly remembered a 90-minute morning radio show Meadows co-hosted with Clare Bestall, in which the two hosts spoke about things of community interest.
"It was very laid back, they chit-chatted back and forth, then when I was working the control room board, one time John shouted and said 'you're going on the air son, you're going to do the station break!'"
After several nervous tries, and with encouragement from Meadows, Hilderley was up to saying 'you're listening to John and Clare on CKCY 920 in Sault Ste. Marie' by the time the show was over.
"He came in and patted me on the back and said 'you're going to be OK,'" Hilderley laughed.
In the late 1960s, Meadows went to work for the federal Ministry of Manpower and Immigration (which, after many name changes, is now known as the Ministry of Human Resources and Skills Development).
At the same time, he continued his involvement in local media.
After retirement, Meadows stayed involved in radio on a part-time basis, delivering newscasts for Rogers Radio in Sault Ste. Marie.
Hilderley did the same for Rogers Radio and enjoyed working with Meadows again.
"John still had it," Hilderley said.
"He was certainly articulate, his diction was perfect…he never really seemed to lose his perspective or his temper."
"John was very easygoing, he would roll with the punches with a very even temperament…he spent a lot of time with junior staff, nurturing, motivating, mentoring."
"He was somebody who could set a good standard for young broadcasters starting out," Hilderley said.
Jim Cronin, a long-time employee of OLG and now a Professor in Sault College's Public Relations and Event Management program, began his career in 1971 as a local news reporter and anchor, working the evening shift in TV news.
"I worked with John most weekday nights…John had such a great personality, he was so even-keeled with a great sense of humour, even though sometimes in the news business you deal with not necessarily the nice stuff."
"He had such a smooth delivery on-air and he would never get rattled even though in those days everything was live," Cronin said.
"He was the veteran, a fatherly figure...he would come in and give me advice on some of the news stories I'd written, and he would share a lot of advice with me."
Art Osborne is another well-known former local broadcaster who worked with Meadows, and currently works as a communications planner.
"John Meadows was a very professional, bright sounding announcer you wanted to listen to," Osborne said.
"He always had a million dollar smile, he always made you feel like you were his best friend."
His official obituary from Beggs Funeral Home in Thessalon follows.
************************
April 17,1931 - July 4, 2014
Aut Pax Aut Bellam
John passed away at Algoma Manor, Thessalon on July 4, 2014 with family by his side. John was the husband of the late Claire (Tremaine).
Father of Shannon, John, Douglas and Daniel.
Grandfather to Caitlin, Anwyn, Joseph, Iain, Stacey, Samantha and Liam.
Separated from wife Carroll (Tombari).
Born in Guelph Ontario, John was the beloved son of George Meadows (Ambala City, India) and Agnes (Nan) Williamson Meadows ( Lanark, Scotland).
John loved boating in the North Channel and St. Mary's River.
He was also an enthusiastic model railroader and aquarium keeper.
John was a vertran of the Korean War. He is remembered for his career in radio and television broadcasting and his work at the Career Centre.
Cremation has taken place and a private family remembrance will be held.
Donations to the United Way gratefully accepted.
Thank you to the Algoma Manor staff for the kindness extended to John and his family.
Funeral arrangements entrusted to Beggs Funeral Home, Thessalon, Ontario. www.beggsfh.com
************************