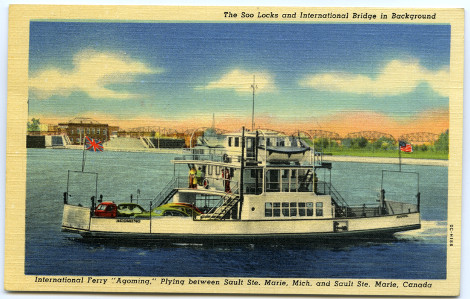 Until 1962, and the opening of the International Bridge, if you wanted to make your way to Sault, Michigan, you made the trip by boat - by ferry to be specific.
Records at the Sault Ste. Marie Museum show a passenger vehicle return trip cost an even dollar back in 1926.
If that seems like a bargain, keep in mind $1 in 1926 was the equivalent of more than $13 in 2014 money (according to U.S. consumer price index data).
Below is a brief history of ferry service between the Twin Saults: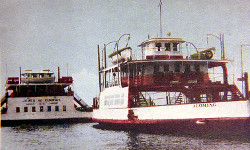 *************************
1873
Ferry service between U. S. and Canada inaugurated; operator Joachim Biron issued a coasting license by the Dominion government Edmund Parr ran steam ferry service between the two Soos, his dock was located at the foot of Spring St., his ferry was called the "Dime", a 30 foot boat with glassed in cabin and room for about 5 or 6 passengers
1897
Robert Davey Perry a lumberman in the area began a ferry service, the boat was called the "Beckwith", listed as the first charter ferry. The rental fee was $100 to be paid to the government for the privilege of opearting a ferry between the two Saults
1902
Clergue starts ferry service through the International Transit Company with the ferry "Fortune" in competition with the U.S. Sault Ferry Company which he later (1903) buys out
1926
Ferry "Agoming" begins operation - first diesel ferry
1947
Ferry "James W. Curran" begins operation
1955
Ferry "John A. McPhail" begins operation
1962
Ferry service to Sault Ste. Marie Michigan ended
1962
Three ferries all built in Collingwood – Agoming – 1926, James W. Curran – 1947, John A. McPhail – 1955. The Curran & McPhail transferred to Lake Ontario to supplement a ferry service between Kingston & Wolfe Island, the Agoming sold at auction to local contractor Jack Smale. The John A. McPhail sank during a storm while being towed to Kingston
Where it all started
On September 15th, 1915 the Government of Canada issued license to the International Transit company for the exclusive right, liberty and privilege of operating a ferry across the St. Mary's river between SSM, Ontario and SSM, Michigan. The License included the following tariffs:
Foot passengers — Adults 10¢ Children 5¢ (each way)
Horse & Rider 25¢ (each way)
Horse vehicle & driver 35¢ (each way)
Each additional horse & passenger 10¢ (each way)
Each head of horned cattle 25¢ (each way)
Each sheep or hog 5¢ (each way)
The ferry would operate every 30 minutes. Starting June 1st between the hours of 7 a.m. and 9 p.m. and November 1st to close of navigation from 7 a.m. to 8 p.m..
In 1926, the Ferry License was renewed for a period of 10 years.
The schedule was changed to the opening of navigation to May 31st from 7 a.m. to 8 p.m.; June 1st to September 30th from 7 a.m. to 9 p.m.; from October 1st until close of navigation from 7 a.m. to 8 p.m.
Charges for fares and tariffs were changed.
Passengers
One passenger — Adult
10¢ (each way) 20¢ (return)
One child under 10 years of age
5¢ (each way) 10¢ (return)
Horse Vehicles
Single horse vehicle or truck not loaded, with driver
35¢ (each way) 70¢ (return)
Two horse vehicle or truck not loaded, with driver
50¢ (each way) $1.00 (return)
Moving van not loaded, with driver
85¢ (each way) $1.20 (return)
Motor Vehicles
One 5 passenger automobile or under with driver
75¢ (each way) $1.00 (return)
One over 5 passenger heavy automobile or long wheel base, with driver
85¢ (each way) $1.20 (return)
One auto truck not loaded, 1 ton capacity or under with driver
75¢ (each way) $1.00 (return)
One motorcycle and rider
One motorcycle and rider with side car
*************************