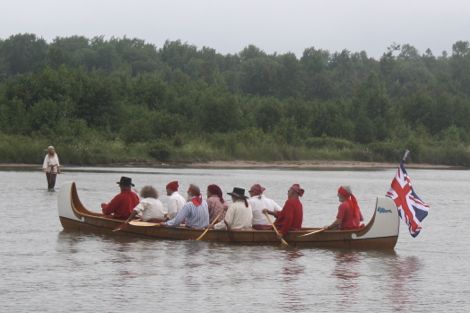 This year, the War of 1812 returned to Fort St. Joseph National Historic Site with all the cannon balls and deer antler whistles of the event it commemorated.
Hundreds of re-enactors drew visitors to the site and into the story with demonstrations, re-enactments and tales of Algoma's heroism in days gone by.
"Right from this very spot where I'm standing today, the first maneuver of the War of 1812 was launched," said Sault MP Bryan Hayes in his remarks about the event during opening ceremonies yesterday morning.
Crowds visiting the site were also treated to the site of tall ships U.S. Brig Niagara and Welcome tacking back and forth in the bay by the fort as presentations, demonstrations and activities continued throughout the day.
The full text of a news release from Algoma War of 1812 follows:
*****************************
Algoma War of 1812 Bicentennial Commemoration marked 200 years of peace and creation of Alliances

ST. JOSEPH ISLAND - History came to life yesterday as the first military maneuver in the War of 1812 was commemorated with the arrival of a historical flotilla of North and Montreal canoes and two tall ships, The Welcome and the US Brig Niagara, at Fort St. Joseph National Historic Site.

The Bicentennial Commemoration also acknowledged 200 years of peace, since the War of 1812, between Canada and the United States.

In addition, the value of the Alliance of First Nations, Metis, Francophone, coureur de bois and voyageurs that supported British troops in the taking of Fort Michilimackinac were also honoured for their integral role in this maneuver.

Visitors to the site also experienced life as it was in 1812 via an encampment featuring military, daily life and cultural demonstrations and re-enactments.

In addition to numerous re-enactors, special guests included Mr. Bryan Hayes, MP (Sault Ste. Marie), Carol Huges (MP Algoma/Manitoulin/Kaspusksing) MPP David Orazietti, Isaac Murdoch (descendant of Chief Shingwauk), and Senator Brenda Powley of the Metis Nation of Ontario.

Locally woven Metis sashes were presented to the dignitaries.

Bryan Hayes, MP, Sault Ste. Marie encouraged the large crowd gathered to appreciate and cherish their heritage.

"Let us remind the world that our patriotism is only matched by our promise to ensure Canada continues to be the greatest country on earth," says Mr. Hayes.

Kathy Fisher and Carol Caputo, of the Algoma 1812 Executive Board of Directors, spoke of the opportunities the Bicentennial presents in terms of learning.

"Educating Canadians and visitors on our importance in the War of 1812 and the development of Canada is our focus," says Kathy Fisher, Algoma 1812 Executive representative. "Events like these provide a fun form of learning for all ages."

The Bicentennial Commemoration is a series of events that have been in development for six years through an Executive Board of Directors, Committees and local organizations.

Funding was provided by the federal and provincial governments with support from the City of Sault Ste. Marie.

"The War of 1812 was a turning point in the history of Canada, and Canada's national historic sites are at the very centre of the commemorations," says Mike Walton, Northern Ontario Field Unit superintendent, Parks Canada."The partnership between Algoma 1812 and Fort St. Joseph National Historic Site highlights the role of Fort St. Joseph allies, and provides a special place to see re-enactments of home and on the battle front while sharing the story of unity, bravery and perseverance to help us connect with our roots and values as a nation."

Algoma 1812 Animated, offered by Theatre in Motion, also enabled visitors to interact with three prominent local historical characters of the time including Chief Shingwauk, Captain Charles Roberts and Charles Ermatinger.

"Our actors have studied and immersed themselves in the recorded history of these people," says Wendy Hamilton, Theatre in Motion. "This enables the public to experience discussions with people out of our past who played such an integral role in our future."

Algoma 1812 Bicentennial Commemorations will continue this week with the following:
The tall ship Welcome available for on-deck tours at the Richards Landing Marina on Wednesday, July 18 from 10 a.m. to 4 p.m. and 6 to 9 p.m.
HistoryFest kicks off at the Ermatinger-Clergue National Historic Site on Thursday, July 19 and runs daily from 9 a.m. to 7 p.m. until Saturday, July 21 and from 9 a.m. to 3 p.m. on Sunday, July 22 with over 200 re-enactors re-creating daily life in 1812. Military musters, merchants' row, cannon and musket demonstrations, dances and guest speakers and more.
HistoryFest will also meet RotaryFest with daily programming on the Rotary grounds plus a huge representation of 1812 re-enactors in the RotaryFest Parade on Saturday, July 21.
Details can also be found at algoma1812.com, or fan us on Facebook.

*****************************