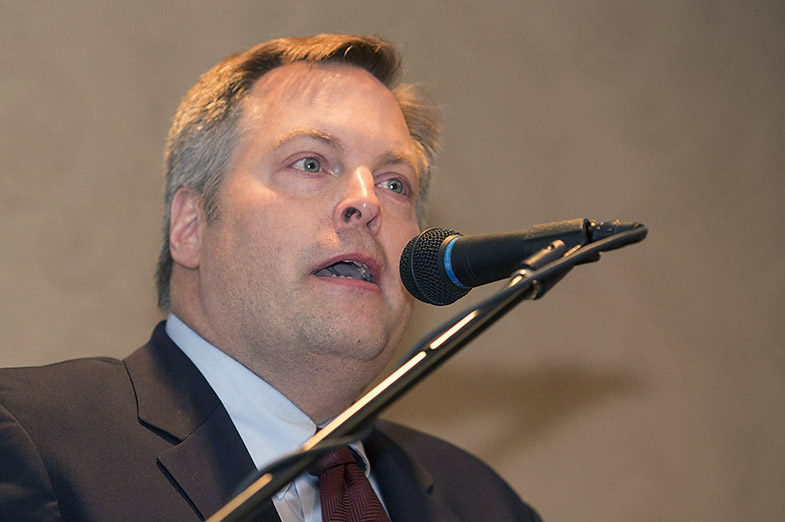 One of the darkest days for the Royal Canadian Mounted Police has led to an outpouring of support from the community, says Sgt. Michael Fenchak, Sault Ste. Marie detachment commander for Sault Ste. Marie.

"I want to thank the community of Sault Ste. Marie for their outreach to the RCMP detachment in the past couple of weeks," said Fenchak, who fought back emotions while speaking at the Sault Ste. Marie Chamber of Commerce 17th annual Police Services Awards Luncheon June 17, 2014.

"We have had flowers dropped off, people have stopped by and given us their condolences. Any time I see someone on the street who recognizes where I work they come up and offer their sympathy, so thank you very much," continued Fenchak.

Fenchak was referring to the tragic deaths of RCMP Const. Dave Ross, Const. Fabrice Gevaudan and Const. Douglas Larche, who were killed in Moncton earlier this month in the line of duty.
Two additional officers were injured during the same incident.

Immediately after the awards luncheon Fenchak expanded on his comments during a SooToday.com interview.

"Every police service in the policing community is one big family and any tragedy we experience we experience together. It also affects the community and this particular incident seems to have affected the community of Canada," said Fenchak.

He noted that the Sault Ste. Marie detachment was represented by a total of five officers at the funeral service for the fallen officers held in Moncton on June 10.

A total of eight RCMP officers are stationed at the detachment.

"They did travel at their own expense, to provide support to the families of the fallen members and to participate in the funeral service," said Fenchak.

"What touched me the most was the senseless tragedy and the fact that three families lost their father and these young children are going to grow up without their father," he added.
(PHOTO: Sgt Michael Fenchak, Sault Ste. Marie detachment commander for the RCMP accepts an Officer of the Year award on behalf of Constable Dan Chevalier of the Royal Canadian Mounted Police – Sault Ste. Marie Detachment during the Sault Ste. Marie Chamber of Commerce 17th annual Police Services Awards Luncheon June 17, 2014 at the Delta Hotel in Sault Ste. Marie, Ont. SooToday.com/Kenneth Armstrong)