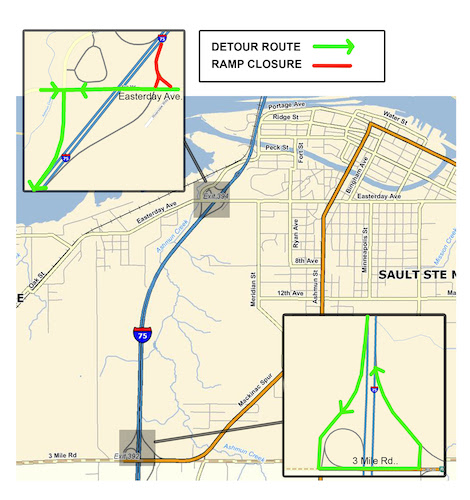 NEWS RELEASE
INTERNATIONAL BRIDGE ADMINISTRATION
*************************
Construction crews are scheduled to close the Easterday Avenue ramp to northbound I-75 in Sault Ste. Marie at 8 a.m. Monday, June 9.
The ramps are scheduled to reopen by 6 p.m. Friday, June 27.
The closure will allow crews to reconstruct the ramp and build temporary toll lanes around the current International Bridge toll booths.
Traffic through the existing toll booths will be maintained at all times.
With the ramp to northbound I-75 closed, Easterday Avenue motorists heading to Canada will be detoured to southbound I-75, then 3 Mile Road in order to take northbound I-75 to the International Bridge.
For more information, visit the International Bridge Administration (IBA) website at: www.michigan.gov/iba, and at www.saultbridge.com.

*************************