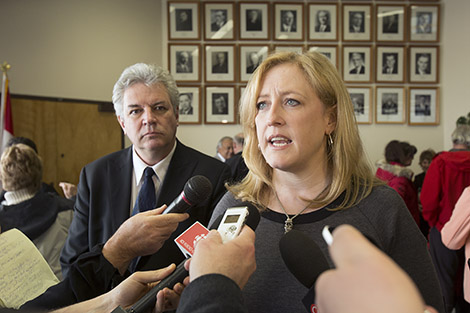 The Government of Canada is extending its $2.2-Million subsidy to CN Rail, ensuring the operation of the Algoma Central Railway for one more year.

Federal Transportation Minister Lisa Raitt made the announcement Monday morning at the Civic Centre, surrounded by local supporters of the line, many of whom own businesses or camps along the route.

"Everybody in this room knows the story of the funding of the Algoma Central Railway far better than a lot of us do in Ottawa," said Raitt.

Raitt said Algoma-Manitoulin MP Carol Hughes and Sault Ste. Marie MP Bryan Hayes pointed out how many small businesses there are along the line, and their need for at least a year to figure out how to move their goods, services and people.

Raitt encouraged local stakeholders to work with CN and work amongst themselves to create a private-sector solution to ensure the long-term viability of the line.

"This is now your time for the local stakeholders to get together, and figure out those long term solutions," said Raitt.

Mayor Debbie Amaroso agreed.

"This is now our time to begin to work together to make sure we can continue to make sure that the needs of this region are very clear to CN, that we don't come just with hat in hand, that we come with solutions," said Amaroso.
(PHOTO: Transportation Minister Lisa Raitt speaks to media at the Civic Centre April 14, 2014. SooToday.com/Kenneth Armstrong)
Local2 also has coverage of Raitt's visit to the Civic Centre, and the archived livestream of the minister's announcement is available here.
Watch for more on this story today from both SooToday.com and Local2.