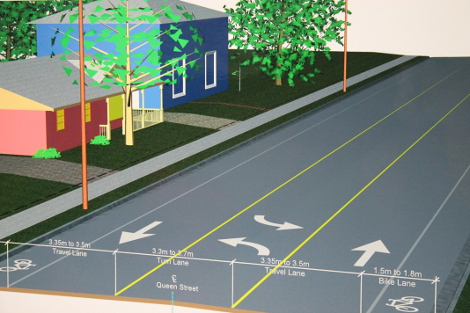 There will be no construction of a sidewalk on the south side of Queen Street East, from Lake Street to the Sault Ste. Marie Golf Club.
A petition from citizens against the proposed sidewalk was presented to the City, and City Council, at its regular meeting Monday, unanimously agreed not to proceed with it.
City of Sault Ste. Marie Commissioner of Engineering and Planning Jerry Dolcetti pointed out to Council that such a petition is honoured if at least 50 percent of homeowners in the area concerned are opposed.
Ward One City Councillor Paul Christian said some homeowners in the area expressed concern that a sidewalk would further reduce already-small distances between their homes and the pavement on Queen Street East.
Christian said: "This is $275,000 (the cost associated with the proposed sidewalk) we could spend somewhere else."
Ward Two City Councillor Terry Sheehan said: "The people have spoken…(and) this is a chance to save $275,000 in what is going to be a tight budget."
Council's decision on that particular matter had no bearing on a separate Queen Street East proposal that came up for discussion at Monday's meeting.
Council approved a plan that will convert Queen Street East from four lanes to three, with bicycle lanes, extending from Pim Street to east of Gravelle Street (near the Sault Ste. Marie Golf Club) within existing pavement widths.
The plan would see one lane of traffic in each direction with a continuous two-way left turn centre lane, with bicycle lanes adjacent to each curb (pictured).
City staff held a well-attended open house in mid-February at the Civic Centre regarding the three lane proposal.
Members of the public met with City of Sault Ste. Marie Engineering and Planning staff and local representatives of AECOM Canada, an engineering/consulting firm working with the City on the proposal.
A Sault Ste. Marie Cycling Master Plan Update, which consisted of public input, was approved by City Council in 2007.
In 2008 a Transportation Planning Consultant, retained by the City, concluded it was feasible for Queen Street to be reconfigured from four lanes down to three, with provisions for cyclists, based on projected reduced traffic volumes for the area.
Bicyclists have called for a more "bicycle friendly" community and consider travelling down Queen Street East on a bicycle, in its current layout, as dangerous.
Some citizens are opposed to the change, preferring the option of being able to pass other vehicles on Queen Street East, which the current four lane configuration allows them to do.
Those opposed to the three lane plan have 30 days to file an appeal with the City.
If no appeals are filed, the City will proceed with its plan.
The transition would not pose any additional cost to the City, as resurfacing of Queen Street East is already in the works and budgeted for.
The painting of the lane configuration, from four lanes to three, and bicycle lanes, will be done during final surface paving.
The project is expected to go to tender soon, with the project tender awarded in April, subject to City Council's approval.
Work would begin in May (with some necessary road closures and detours throughout the process) and be done by the end of October.