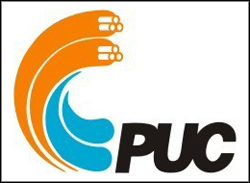 City council passed a resolution Monday urging the Sault Ste. Marie PUC to show "a gesture of goodwill" to its customers who have been plagued with brown water incidents.
The original wording of the resolution, written by Ward 1 city Councillors Steve Butland and Paul Christian, called on the PUC to provide reimbursement to affected residents (mainly in the city's east end).
At Monday's council meeting however, Butland said the call for reimbursement was "impractical."
"We don't know how well it (reimbursement) could be accurately and fairly managed," Christian told SooToday.com.
While the PUC works on its Preferred Strategy for Water Quality Improvement to rectify the taste, odour and colour of the community's tap water, Butland and Christian suggested ways the utility company could make a bad situation better.
Christian said the PUC should keep its customers better informed on the progress of its Water Quality Improvement Plan through regular mail updates, including advance notice of when the Lorna Wells (identified as a main cause of the brown water incidents) would be activated.
Butland said PUC crews, while out in their trucks, could deliver products such as detergents or toilet bowl cleaners to customers affected by brown water incidents.
The last major brown water incident in the east end happened March 1, when the Lorna Wells were activated to address a water shortage caused by a water main break in the Pim and Bruce Street area.
Frustrated customers were not able to reach PUC customer service representatives by telephone, similar to an earlier widespread brown water incident in the east end November 20.
"Two years ago I brought this up about the PUC getting more people to answer calls…I'm hoping they will," Butland said.
The need for more customer service representatives is "something they (the PUC) need to work towards," Christian said.
Butland and Christian met with PUC President and CEO Dominic Parrella on Friday.
"I think the PUC is fully aware of how we feel about it and I think they understand this time," Christian said.
Butland told council the brown water incidents are "no longer an inconvenience…it's an impact on quality of life."
East-end residents have suffered through several incidents in the past two years, in which brown water has shown up in their toilets, sinks, tubs and laundry machines.
The PUC says the brown water incidents are due to several reasons, including the introduction of free chlorine into the water supply in 2011, unidirectional flushing, start-up of the Lorna Wells, water main breaks, hydrant flushing, construction, and illegal use of fire hydrants.
In February, the PUC Board of Directors approved a Preferred Strategy for Water Quality Improvement for Sault Ste. Marie's water supply.
The two-stage strategy will begin in May and could run though to 2017.
To read about the strategy, click here.