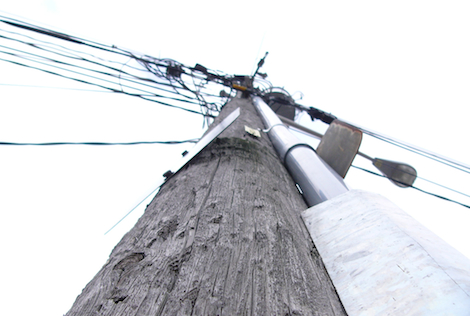 Sault PUC customers will pay more for their water and electricity in 2015.
The Sault Ste. Marie PUC board of directors, at its meeting Wednesday, approved the corporation's 2015 budget, which takes effect January 1, 2015.
Customers will pay $2.94 a month more for water, and $2.74 a month more for electricity.
The electrical figure is based on the Ontario Energy Board (OEB) standard for the average 800 kWh (kilowatt hours) home, said Terry Greco, PUC vice president of finance and treasurer.
The PUC board also approved a motion to ask permission to borrow money for upgrades to the community's water utility and electrical infrastructure.
"We're going to city council on Monday to get approval to borrow $15 million (from Infrastructure Ontario) to finance capital expenditures we have made for this year and next year," Greco told SooToday.
The $15 million will go towards replacing poles, switches and substations on the electrical side.
In the longer term, "there are 15 distribution stations and we need to rebuild those stations over the next 20 years, and we'll be rebuilding stations at approximately $3 million per station," said Dominic Parrella, PUC president and CEO, speaking to SooToday.
The PUC will also seek approval from council, later in the new year, to borrow another $8 million from Infrastructure Ontario to help with continuation of the Water Quality Improvement Project and the cost of repairing 171 watermains which froze and broke in the extreme cold of the winter of 2013-2014.
Greco told the board the borrowing will not mean new, unplanned rate increases for water and electricity other than those originally approved by the OEB in 2012.
There will be 10 percent annual rate increases for customers through to 2018, then five percent annual rate increases, to pay for infrastructure upgrades.
"We have to replace the infrastructure that's been in place for 50 years, and we're going to have to do that over the next several years," Greco told us.
"In order to be sustainable in the long term we have to ramp up the amount of capital works we do each year to the point where by 2020 we need to be between $10 million and $12 million in capital works," Parrella said.
Meanwhile, the board was given an update on the new Atlas Notification System.
Beginning December 1, the PUC began using the Atlas system, which gives PUC customers 24 to 48 hours advance notification, through an automated telephone message, of planned power outages or water service interruptions in their area, enabling customers to prepare accordingly.
The PUC has asked customers to provide a Preferred Outage Contact Number by calling the PUC customer service office at 705-759-6522 or by visiting www.ssmpuc.com/atlas
Customers can opt out of providing a number, but will still be notified by the PUC in the event of a major emergency.
Giordan Zin, PUC communications supervisor, told the board it cost $40,000 to purchase and install Atlas technology, and will cost $30,000 to maintain the service annually.
"We have ongoing planned outages that are required in order to upgrade the aging infrastructure," Parrella told reporters.
"Hopefully moving forward we may get to the point where we utilize it in the case of a water main break to notify the customers affected without notifying the entire city," Parrella said.
A news release issued by the Sault Ste. Marie PUC follows.
***************************
PUC seeks municipal approval for major investment in electrical and water distribution systems
Aging infrastructure requires ongoing upgrades to ensure long-term sustainability

SAULT STE. MARIE - After receiving approval from the Board of Directors in August, the PUC is now seeking final authorization from their Shareholder, the City of Sault Ste. Marie, to borrow $15 million from Infrastructure Ontario to address Sault Ste. Marie's aging electric utility infrastructure.

As previously reported, borrowing provides the necessary leverage to complete capital works projects without increasing rates beyond what has already been announced or approved.

This borrowing would occur over three years to replace some of the city's aging electrical distribution system.

2015 will see the PUC continue an investment of $15 million in upgrades to the city's electrical distribution grid including; replacing poles, switches and substations.

"The PUC remains committed to continual improvement and investment in the city's electrical distribution grid. We have been working to gradually increase the amount of infrastructure renewal we do each year. This investment in the electric distribution system will provide long-term tangible benefits for all PUC customers." says PUC President, Dominic Parrella.

"So far in 2014, equipment failure has accounted for seventy percent of the outages to-date. Investments like this will lead to a more reliable electrical system by reducing the occurrence of this type of outages," says Parrella.

The PUC will also be seeking approval from the City in the new year to borrow $8 million from Infrastructure Ontario for the water utility.

These funds will provide the working capital required to implement the Water Quality Improvement Project, specifically, the installation of the advanced treatment methods and the construction of new wells to replace the lost capacity of the Lorna Wells.

The funds will also help cover the 2014 budget short fall resulting from the abnormal amount of watermain breaks and frozen service lines that Sault Ste. Marie experienced this past winter.

The winter of 2013/2014 was the second worst winter (with regard to amount of main breaks) Sault Ste. Marie has experienced in its recorded history.

2014's extreme temperatures resulted in a total of 245 frozen water services and over 171 watermain breaks, compared to 73 watermain breaks in the winter of 2012/2013.

"We know customers are concerned about rates." says Terry Greco, vice-president of Finance. "We want to assure our customers that borrowing in this manner is the least impactive way to attain the required level of capital required to complete the necessary infrastructure improvement projects."

"This borrowing will not result in any new or unplanned rate increases because the investment in the water system falls within the previously announced yearly rate increases identified in PUC's Financial Plan that was submitted to the Province in 2012. Similarly, the investment in the electric system falls within the current distribution rates approved by the Ontario Energy Board," said, Greco.

***************************