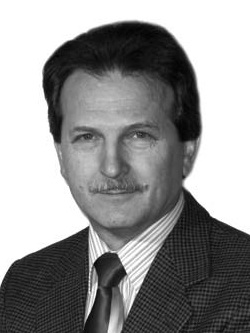 NEWS RELEASE
PUC SERVICES
*************************
New Sault Ste. Marie PUC Services chief executive officer named

Larry Guerriero, chair of the Sault Ste. Marie PUC Services board of directors, is pleased to announce that Dominic Parrella-Ilaria [shown] will be appointed as the chief executive officer effective February 1, 2013.

A recruitment committee commenced a search for the new CEO shortly after Brian Curran announced his decision to retire effective January 31, 2013, after 12 years of dedicated service and leadership.

Dominic joined the Sault Ste. Marie PUC in 1987 as a distribution engineer and progressed steadily through roles of increasing responsibility including his most recent role as vice president, Operations & Engineering.
Dominic was selected from 23 applicants identified through a Canada-wide recruitment campaign undertaken during the month of September.

Larry Guerriero expressed the sincere thanks of the board of directors "for the effective leadership and vision Brian has given to the PUC over the past 12 years. He is leaving behind a strong corporate culture."
Dominic's appointment was ratified by the PUC Services board of directors on October 9 and allows the PUC to continue to focus on providing the safe and reliable delivery of high quality utility services.
"Dominic has established himself as a natural leader and a very competent executive within the PUC," said Guerriero.

*************************