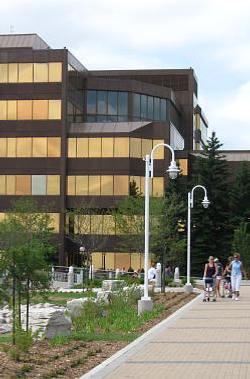 Sault taxpayers will have to pay 100 percent of the bill for maintenance of the community's most vital commercial roads, because of a sudden change in provincial government policy.
City Council, after its' regular meeting Tuesday night, will urge the provincial government to rethink its' recent cancellation of the Connecting Link Funding Program.
Under the Connecting Link Funding Program, an annual grant covered 75 percent of construction and engineering costs for Sault Ste. Marie's vital commercial links, including Trunk Road from the eastern City limit to Black Road, Black Road from Trunk Road to Second Line, Second Line from Black Road to Carmen's Way, Carmen's Way from Second Line to Queen Street and Huron Street, and Great Northern Road from Second Line to the City's northern limit.
City Chief Administrative Officer Joe Fratesi told SooToday.com "this is hugely important. This is another 24 kilometres of significant roadway that is going to be repaired or replaced on the backs of local taxpayers only, whereas before, three quarters of the cost of doing work on these roadways was subsidized by the province."
"That's gone. That hurts," Fratesi told us.
Sault Ste. Marie is not the only community affected by the decision, but Council will be in contact with Sault MPP and Minister of Natural Resources David Orazietti to get Transportation Minister Glen Murray and the rest of the government on board in considering an exception for Sault Ste. Marie, because of the community's significant amount of connecting link roads (24.9 kilometres of roadways) and its' international connection, through the International Bridge.
Cancellation of the Connecting Link Funding Program will put a dent in the amount of road reconstruction and the local construction industry annually. It is estimated, in a City report, there will be a 10 to 15 percent annual decrease in road reconstruction and resurfacing each year because of the action taken by the government.
It also puts a huge question mark on the hoped-for connection of Highway 17 (new portion) to Black Road at Second Line.
Fratesi told us "our argument to the province would be they ought not to go ahead with this because in Sault Ste. Marie we have a significant amount of kilometres, and that maybe an exception should be made for us."
Fratesi told Council "our protest to the provincial government (is) every time we turn around, there seems to be another nibble here, another nibble there (on our funding)."
Fratesi said if the province does not change its' decision regarding Connecting Link funding, work on those roads will take priority and push back many other local road projects that have needed attention for some time.
Fratesi told us "we work on a priority basis to repair or plough roads, the main roads get done first, and our connecting links comprise some of our main roads, like Second Line and Great Northern Road, for example."
"If money is spent there and not being subsidized by the province, it'll suffer at the other end, in the residential neighbourhoods, who've been at the bottom of the list and who no doubt will go further down the list because of this action."
Notification that the program has been discontinued was contained in a January letter from then-Minister of Transportation Bob Chiarelli, addressed to Mayor Debbie Amaroso's office.
Correspondence from the Ontario government with the City as recent as December 2012 gave no indication the program would end.
Information provided by the City shows Sault Ste. Marie benefited greatly from the Connecting Link Funding Program since 1999, in the amount of $32.4 million.
The province has informed the City it is welcome to apply for connecting link funding through the Municipal Infrastructure Investment Initiative (MIII), but Sault Ste. Marie will face stiff competition from other Ontario communities for MIII funding, which amounts to only $90 million for the entire province.
The City filed an Expression of Interest for MIII funding in time for a January 9, 2013 deadline.
Regarding the government's sudden change in funding policy, Fratesi told us "Council made noise about this tonight, and hopefully that noise is heard at Queen's Park."