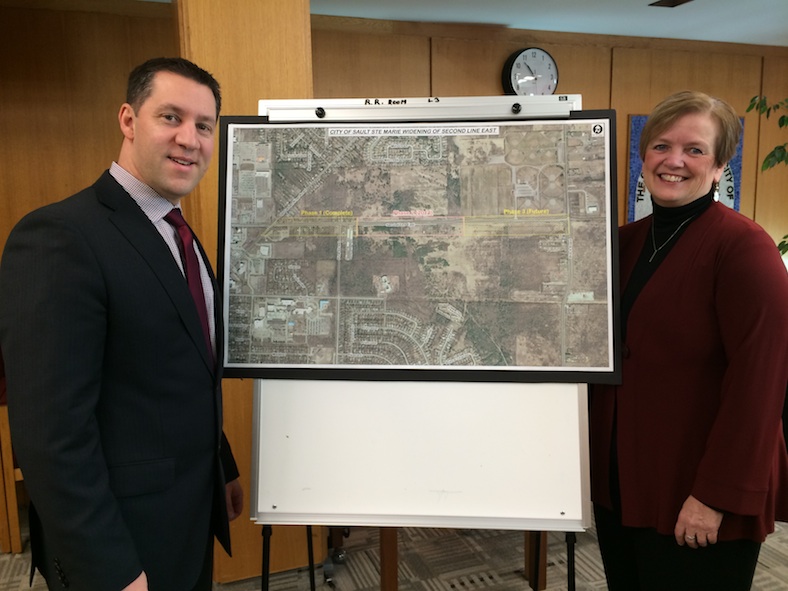 Phase two of a three phase project to improve Second Line will be getting underway this summer thanks in part to $2 million in funding from the Province of Ontario.
At today's infrastructure funding announcement Sault Mayor Debbie Amaroso talked about what widening Second Line to five lanes will mean for Saultites.
"This is really a good news item for Sault Ste. Marie," she said. "We've got the new high school, the long term care facility and development is continuing to blossom in that area. There is a lot of traffic."
When the program that would have funded upgrading Second Line was cut, city staff feared the city would have to come up with all the funding for this $3.7 million project that can't wait.
That would have meant putting other projects on hold or find funding locally said City Commissioner of Engineering and Planning Jerry Dolcetti.
"If we don't have connection link funding or something else that replaces then, obviously, we're going to have to increase the levy if we want to maintain the same kind of capital improvements each year, Dolcetti said.
The city spends about $10 million on capital improvements to its roads each year and right now there is a need for about a quarter of a billion in work on the books that needs to be done to the roads he said.
At about two or three projects a year, that's about a 25 to 30 year plan, barring complications.
Complications like an extreme winter that was preceded by a wet fall - like this winter.
"We're going to have to look at things this spring but it looks like there's been a fair amount of damage, even to more recent improvements, from water getting under the roads and freezing, then thawing and freezing again," Dolcetti said.
Under the now-defunct Connecting Links funding program the city used to get an average of about $1.2 million a year but the program was axed in the 2013 provincial budget.
That, of course, threw the whole timeline for that quarter-billion in road repairs into question.
The funding announced today comes from the Small, Rural and Northern Municipal Infrastructure Fund created in part to replace connecting link funding but also administered by a different branch of the provincial government.
"It doesn't really matter where it comes from as long as our needs are being met," said Orazietti. "The project is being funded and moving forward and that's what matters."
The proof is in the pavement.
He also said there were always more applications for connecting links funding than there was money to cover so it never guaranteed funding.
The Small, Rural and Northern Municipal Infrastructure Fund will work the same but be more flexible because it's not limited to roads.
Second Line will be widened to five lanes, two in each direction and a turn lane in the centre from Great Northern Road to Black Road over the coming summer.
"It's quite lengthy but certainly doable," Dolcetti said.
The full text of a release from David Orazietti follows.
****************************
Orazietti announces $2 million on local infrastructure improvements

Ontario government investing in Sault Ste. Marie

SAULT STE. MARIE - The City of Sault Ste. Marie has been awarded $2 million in funding from the Ontario Ministry of Rural Affairs Small, Rural and Northern Municipal Infrastructure Fund – Capital Program (SRNMIF-CTL) for critical infrastructure in Sault Ste. Marie, David Orazietti MPP announced today.

"With the help of provincial funding, our city can begin the second phase of a multi-phase project to widen the Second Line Corridor from two to five lanes," said Orazietti. "This project will not only widen the city's main east-west artery to benefit local traffic, but will improve access to major commercial and recreational facilities, as well as the new St. Mary's College currently under construction."

The province is supporting these improvements through the Small, Rural and Northern Municipal Infrastructure Fund, which is providing $100 million to help municipalities across the province build and maintain key infrastructure.

"The Ontario government is committed to working with municipalities, especially our rural partners, to help make critical infrastructure investments that will strengthen our communities across the province. Through the Small, Rural and Northern Municipal Infrastructure Fund, we are ensuring that the right investments are made at the right time," said Glen Murray, Minister of Infrastructure.

Investing in modern infrastructure is part of the government's economic plan that is creating jobs for today and tomorrow.

The comprehensive plan and its six priorities focus on Ontario's greatest strengths - its people and strategic partnerships.

"A strong, prosperous rural Ontario requires modern and efficient infrastructure. Through this fund, our government is helping communities renew and replace roads, bridges and other critical infrastructure that will attract investment, create jobs and help drive economic growth," said Jeff Leal, Minister of Rural Affairs.

Quick facts

Twenty-one communities were already approved for Small, Rural and Northern Municipal Infrastructure Fund projects based on their applications to the Municipal Infrastructure Investment Initiative in 2013.

Ontario is investing more than $35 billion in infrastructure across Ontario over the next three years, which will support more than 100,000 jobs on average each year.

Since 2003, the Ontario government has provided approximately $85 billion to help municipalities modernize and expand transit, repair and upgrade roads and bridges, improve water and wastewater treatment, and revitalize community infrastructure.

Learn more

See what's being built in your community at ontario.ca/buildingtoday

Small, Rural and Northern Municipal Infrastructure Fund

Building Together, Ontario's long-term infrastructure plan

****************************