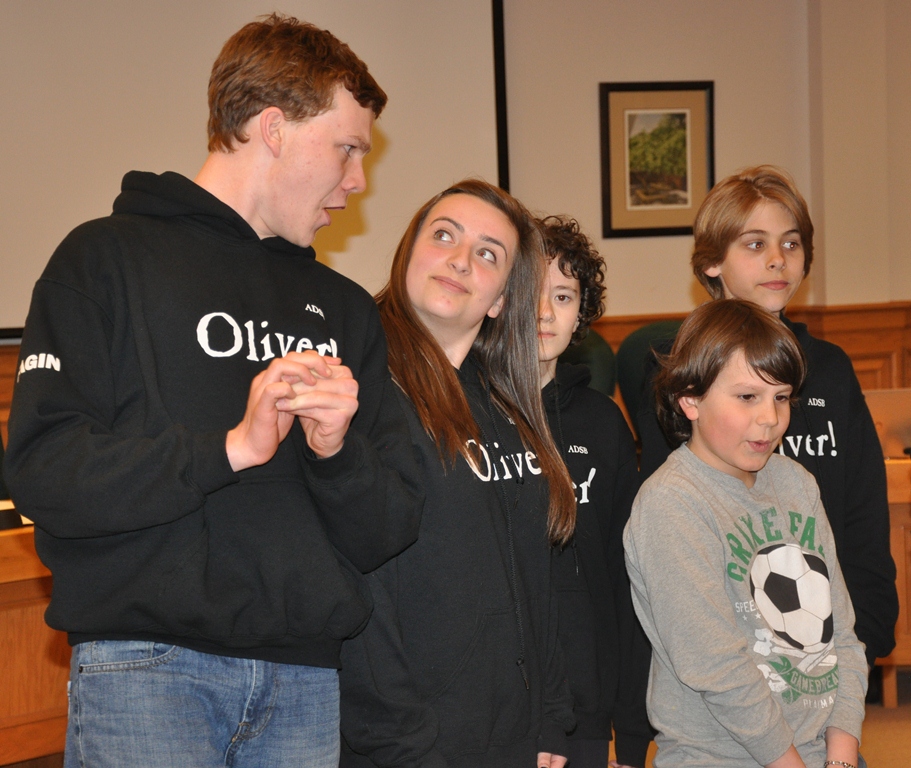 NEWS RELEASE
ALGOMA DISTRICT SCHOOL BOARD
*************************
The Algoma District School Board held their regular board meeting on Tuesday, March 25.
A sampling of Elementary and Secondary programs were reviewed and Trustees were treated to a musical performance by students from the upcoming production of Oliver!

Algoma Education Connection (AEC)
Three distinct programs make up the Algoma Education Connection (AEC).
Principal Mark Zorzit oversees these three programs and he along with staff members from each provided an update for Trustees at the Board meeting on Tuesday.

Alternative Programs for secondary students have been in existence for a long time.
The S.F. Howe Coop School which started as a store front school on Queen Street opened its doors in September 1987 and has been serving students for 26 years.
The Prince Charles Late School which started on the second floor of Bawating Collegiate School in February 2000 will be celebrating 15 years of operation.
The Urban Aboriginal School which started in a single classroom on the second floor of the Indian Friendship Centre September 2004 celebrated its tenth anniversary as a school this past September.

In June 2010 all of the Alternative Programs were amalgamated under the umbrella of the Algoma Education Connection (AEC).
Students who attend the AEC alternative programs do so for a variety of educational and personal reasons.
Algoma Education Connection is pleased to work in conjunction with and accesses the services of several community based agencies such as:
Algoma Family Services
Algoma Public Health
The Indian Friendship Centre
Local First Nations Band offices
Family YMCA
March of Dimes
Job Connect
Women in Crisis
Pauline's' Place
Children's Aid Society of Algoma
SSM Police / School Liaison Officers
Probation and Parole (Youth and Adult Divisions)
Sault Area Hospital (Crisis Intervention Unit)
North East Community Care Access Centre (Mental Health Nurses)
Sault College and Algoma University
The community and school board supports along with the hard work of students and staff are paying off as indicated by the 2013 graduation numbers:
Co-op School - 24 graduates
Prince Charles - 21 graduates
Urban Aboriginal School - 14 graduates
Early Learning and Parenting and Family Literacy Centres
Rhonda Dillabough is a Kindergarten teacher and Jessica Lafreniere is an Early Childhood Educator (ECE) and they work together as an Educator Team at East View Public School.
They shared with the Board an overview of how they support children in Junior and Senior Kindergarten classrooms.
Together the two have a comprehensive and current understanding of play-based learning and inquiry.
They enhance play-based learning in their classroom by providing large blocks of time for play that is intentional and initiated by the child.
They provide a variety of hands-on, natural materials, tools and equipment that encourage children to engage in different forms of play.

Superintendent Brenda O'Neill and Blythe Servant, ADSB System Administrator, confirmed that ADSB is on track for the implementation of full-day kindergarten in all of our schools by September 2014.
This has been a gradual transition over the past five years.
Currently, just about 75 percent of ADSB schools offer full-day Kindergarten for four- and five-year-olds.

A recent provincial study measured the progress and development of students who were enrolled in full-day Kindergarten compared to those who participated in half-day programs.
The results found that Ontario's youngest learners who completed full-day Kindergarten are better prepared to enter Grade 1 and to be more successful in school in all areas the study explored.

There has been a steady and significant increase in numbers of visits to our four Parenting and Family Literacy Centres (PFLCs).
All four centres (one each at Etienne Brule, Northern Heights, Pinewood and River View public schools) were established in the 2008/09 school year.
In the first year, the four centres averaged approximately 770 visits each over the school year.
Those numbers have grown and last year (2012/13) our centres saw close to or over 2,000 visits over the course of the school year.

The PFLCs are designed for children who are new born to age 6 and their parents/caregivers.
They help prepare children for starting school and encourage families to be a part of their children's early learning by:
familiarizing children and families with school routines;
helping children build essential literacy and numeracy skills through stories, music, reading and playing;
offering a book-lending library so parents can read to their children; and
giving children and families the chance to spend time with other families.
These centres are free of charge.
There is no pre-registration required and they are open every school day from 9 a.m. to 1 p.m.
PFLC staff work closely with kindergarten teachers to ensure a positive and welcoming learning environment so that children can later make a smooth transition to school.

There are currently 172 Parenting and Family Literacy Centres open across Ontario including our four centres in Sault Ste Marie.
Preview of Board Wide Production of Oliver!
Oliver! is the story of an orphan, Oliver Twist, who endures a miserable existence in a workhouse in 17th century England and who is then placed with an undertaker.
He escapes and travels to London where he meets the Artful Dodger, leader of a gang of juvenile pickpockets.
Naïvely unaware of their unlawful activities, Oliver is led to their elderly criminal trainer Fagin.

Fagin and his "gang" were the cast members in attendance at Tuesday night's board meeting along with Oliver.
They sang two songs from the show, one being "the gang's" signature song You've Got to Pick a Pocket.

Oliver! is being produced by the Algoma District School Board and directed by ADSB teachers Anthony and Christine Aceti.
Like productions in the past (including Cats and Les Mis) Oliver! is a board-wide production featuring students from a number of ADSB schools.
There are 75 students – some as young as 10 years old – from a dozen ADSB schools including outlying schools such as CASS and Aweres to elementary schools and all three high schools in Sault Ste. Marie.

Auditions took place in September of this year and for the past seven months cast and crew have been working steadily perfecting the show.
For some, this is the first musical production in which they have been involved.


Anthony Aceti accompanied the students on keyboard at the board meeting and shared with the board just how far the ensemble has come since the first rehearsals and how truly impressive the show is going to be.
Oliver! is onstage at the Community Theatre Centre at White Pines from April 10 to 13 with two evening shows and two matinee shows.

Evening Shows:
Thursday April 10 7:30 p.m.
Friday April 11 7:30 p.m.
Matinee Shows:
Saturday April 12 2 p.m.
Sunday April 13 2 p.m.

Tickets are $25 for adults, $20 for seniors, and $10 for students, and are on sale now at the Station Mall Box Office or online at www.kctc.ca
*************************