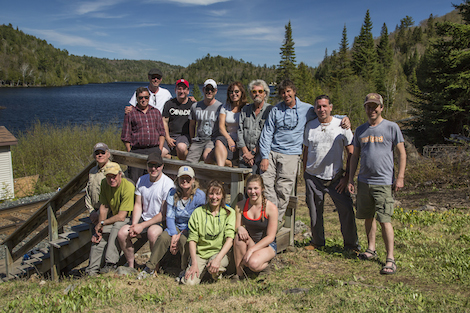 NEWS RELEASE
WHITE PINE PICTURES
*************************
TORONTO – White Pine Pictures announced today that principal photography has begun on their newest feature documentary Spirit Land: In Search of the Group of Seven.
Filmed on location in the Algoma region north of Sault Ste. Marie and along the north shore of Lake Superior, shooting takes place through September and early October, capturing the beauty of the Fall colours as they were so dramatically captured by Canada's revered Group of Seven.
Produced for theatrical release and for broadcast on TVO, the documentary channel and CTS, Spirit Land follows authors and wilderness photographers Joanie and Gary McGuffin, and art historian Michael Burtch, as they search for the locations visited by Canada's most celebrated landscape painters.
The film combines original photography, archival materials, paintings and re-creations.
Spirit Land is the next in a series of award-winning art documentaries produced by White Pine Pictures, including Oscar-shortlisted and critically acclaimed Genius Within: The Inner Life of Glenn Gould, Winds of Heaven (a portrait of West Coast artist Emily Carr) and West Wind: The Vision of Tom Thomson (screened in over 80 venues across Canada, Europe and the U.S. and honoured with 6 international awards.)
Spirit Land is directed by award-winning director/writer Phyllis Ellis and produced by West Wind producer and professional artist, Nancy Lang.
Ellis wrote, directed and produced the critically acclaimed documentary About Her, honoured with the 2013 Canadian Screen Award's Donald Brittain Prize for Best Social/Political Documentary.
Spirit Land is an ambitious undertaking featuring a recreation of the iconic #10557 boxcar that became the home of Lawren Harris, A.Y. Jackson, JEH MacDonald and Frank Johnston in the Agawa Canyon in the summers of 1918 and 1919.
CN and The Algoma Central Railway donated the boxcar car which has been refitted with period props and set dressing.
Following the shoot, Tourism Ontario will relocate the newly created time capsule to be featured at the Algoma Fall Festival Group of Seven Exhibit and then become a permanent fixture in Sault Ste. Marie as part of their Destination North initiative.
White Pine Pictures and interactive content company Digital Howard are collaborating on creating a fully immersive companion website to Spirit Land that will allow audiences and those interested in the Group of Seven to experience the intimacy between the artists and their paintings within a virtual recreation of the Algoma landscape.
Digital Howard is headed by online and interactive content veterans Jarret Sherman and Daniel Dales who have been creating compelling and original multi-platform content for over a decade.
Spirit Land is Executive Produced by Peter Raymont. Jane Jankovic is TVO's Commissioning Editor and Linda Fong is the Independent Production Officer for TVO.
Spirit Land is a White Pine Pictures production and in association with TVOntario, documentary channel, and Crossroads Television, and with the participation of the Northern Ontario Heritage Fund Corporation, Canada Media Fund, the Bell Fund, The Canadian Film or Video Production Tax Credit and the OMDC Feature Film Fund, co-produced with Solemn Land Productions Inc., and developed with the assistance of Super Channel.
About White Pine Pictures
White Pine Pictures is an independent Canadian film, television, and new media production company based in Toronto, Canada. Headed by award-winning filmmaker, Peter Raymont, the company has produced over 100 films, including the Emmy award-winning feature documentary Shake Hands With The Devil: The Journey of Roméo Dallaire, two Oscar-shortlisted features; A Promise to the Dead: The Exile Journey of Ariel Dorfman, and Genius Within: The Inner Life of Glenn Gould.
White Pine is also the producer of the award-winning TV drama series The Border (38 episodes), and Cracked (21 episodes) created for the CBC and sold worldwide including France, Germany, and the USA.
For more information: www.whitepinepictures.com
*************************