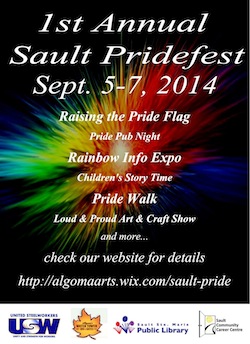 During the Monday, August 11 meeting of City Council, Sault Ste. Marie Mayor Debbie Amaroso read the following proclamation:

WHEREAS Lesbian, gay, bisexual, trans, two-spirited, queer and questioning people experience stigma and discrimination across their life spans and are targets of sexual and physical assault, harassment and hate crimes; and

WHEREAS The Canadian Mental Health Association states that hate crimes motivated by sexual orientation more than doubled in Canada from 2007 to 2008 and were the most violent of crimes; and

WHEREAS Many LGBTQ+ youth leave their homes in Northern Ontario for larger urban centres inclusive opportunities, a more visible queer community and the freedom to express themselves without prejudice; and

WHEREAS In 1969, Prime Minister Pierre Trudeau introduced Bill C-150, which decriminalized homosexuality in Canada; and

WHEREAS In 81 countries around the world today it is still illegal to identify as LGBTQ+, and in some cases the punishment can include life imprisonment and even death; and

WHEREAS The importance of creating safe spaces, recognizing allies and by developing awareness about homophobia, transphobia, and biphobia as being detrimental to the wellbeing of all LGBTQ+ people and their families and friends in the community:

NOW THEREFORE, I, Debbie Amaroso, by virtue of the power vested in me as Mayor of the City of Sault Ste. Marie, do hereby proclaim that September 5 to September 7, 2014 as the weekend of "Sault Pridefest" and encourage all citizens to join in the celebration with our lesbian, gay, bisexual, transgendered, two-spirited, queer, questioning and allied neighbours.

And with that proclamation, the Sault Pride Community is set to host the first annual Pridefest at various locations across the city on September 5 through September 7, 2014.

Sault Pride Community founder Teddy Syrette told SooToday.com that he wanted to revive the Algoma Pride organization of the 1990s that would host popular regular events and dances for the community.

He took that revitalization idea to the inaugural Soup Ste. Marie event which was hosted in November 2013 by the NORDICK Institute as part of its Downtown Dialogue in Action Project.

The purpose of Soup Ste. Marie was to find a unique community initiative, and Syrette's Sault Pride Community dream was chosen as the worthy candidate.

From there, ideas were hatched, initiatives were planned and partnerships were formed.

Members of the Sault Pride Community considered hosting a Pridefest event following the Sochi Winter Olympics, but it was decided that it was best if celebration didn't piggyback on any other initiative or event.

"We have a good solid foundation of where we want to begin. Even though we received some backlash asking why we didn't push it right after the Olympics, we didn't think it was the right time," Syrette said. "You need to take those cues and check those balances, and you need to know when to pick your battles."

This September's Pridefest will begin with the raising of the pride flag at City Hall on Friday, September 5.

Other confirmed events include a pride pub night, a children's story time at the Centennial Library, and a pride walk from the Canadian Bushplane Heritage Centre to the Bondar Pavilion followed by a community celebration.

Algoma University assistant professor Dr. Deb Woodman will be part of the Rainbow Info Expo as she presents her Queer 101 session.

"It's an interactive, engaging presentation about everything queer and under the rainbow," explained Syrette. "She does it in a way that's very welcoming and warm, and it's an open opportunity for participants to actively take part."

Algoma's Water Tower Inn will host a jazz and comedy night in the Inn's Pavilion, and the Grand Theatre has scheduled two movie screenings for the three-day event - Cloudburst and I Know a Place.

I Know a Place is a 30-minute documentary short by Roy Mitchell about Bob Goddere (Mother Goddere) and the gay and lesbian dances he used to host for the Sault Ste. Marie community.

All Pridefest events are free to attend and open to everyone.

Syrette said a number of local businesses and organizations are offering financial, in-kind, and discounted services for the event to show their support, including the United Steelworkers, Algoma's Water Tower Inn, the Sault Ste. Marie Public Library, the Grand Theatre, and the Sault Community Career Centre.

"That is really great to see, because to think of doing something like this 10 years ago, it wouldn't be on anyone's radar," he told us. "In the last three years, we've seen the local movement really take hold."

Although the Sault Pride Community has been a part of a number of annual community events, such as the Rotaryfest Parade, the Santa Claus Parade, Passport to Unity, and Bon Soo SnoMadness, Syrette feels it's time his organization had a celebration of its own.

Many other Northern Ontario communities, including Sudbury, Thunder Bay and Elliot Lake, have proudly hosted LGBTQ celebrations, and Sault Ste. Marie is gradually catching up.

"There are so many events in Sault Ste. Marie that are culturally related - like the Italian Festival, Rotaryfest, and Aboriginal Days - and it's done as a celebration of being part of the community," said Syrette. "The population of Sault Ste. Marie is becoming more diverse, and that includes people of different sexualities and genders. I think it's important to have acknowledgement from our city that this is a day to celebrate whether you're queer or not. We are part of this community, and we want to be part of that recognition as well."

Watch for additional Pridefest details on the Sault Pride Community's Facebook page or visit the website.