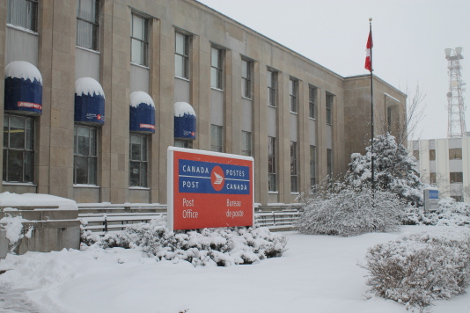 SooToday.com has received the following information from Sault Ste. Marie Chamber of Commerce President Mark Barsanti who wanted to give our readers the full context of his statement to City Council last night regarding
Council's position
on a recent Canada Post and it's decision to cut home delivery of mail. What follows is the full text of his remarks to Council.
*************************
Remarks by the SSMCOC to City Council on February 3rd, 2014 on Canada Post Resolution
Mr. Turco's first speech during his election campaign to become a councilor all those years ago struck me because he focused in on what he saw as his role as a councilor.
To paraphrase, he said he wanted to serve as councilor to help people in his ward who needed things like a pot hole fixed; a stop sign installed.
His speech was impassioned and heartfelt and it was focused on what he believed the voters in his ward wanted of their councilor.
Our city is in a demographics Crisis. We have a crisis of youth.
The potholes and stop signs of the 1990s are the job creation and outward migration issues of today.
Those issues need to be our focus. Those issues need to be our passion, our mission.
Tonight I want to be clear, the Chamber is not here because we have any particular affinity for Canada Post Corporation; nor do we have any particular affinity for CUPW;
However, we are here for local business and entrepreneurs. We are here because we see this issue in a broader context…
Both Canada Post Corporation and CUPW are large, sophisticated organizations that have the resources and talent to effectively resolve their differences without our community becoming a proxy for either of them.
This is not, nor should it be, a council of labour or a council management.
There are many situations where companies are making decisions that affect employment in the Sault. Sears Canada and Futureshop both recently announced national job cuts that will impact people in our community.
If council gets into the labour / management debate with one company, why not all companies.
What are the implications of going there?
We must not become a community that business perceives to be interventionist when it comes to the relationship between worker and management.
We must become a community that both business and workers perceive to be one of opportunity and growth potential;
We have one of the oldest communities in the province and one of the fastest aging cities in the country.
The Chamber urges you to see this Canada Post issue as an opportunity.
An opportunity to present yourselves and this community in a progressive way.
An opportunity to present yourselves and this community as a place for those who want to be part of a solution, not part of a protest.
An opportunity to lobby for a decentralization of jobs out of Ottawa and Toronto into the Sault.
Let's be clear, there is not a person here who would not choose home mail delivery.
Times have changed.
We can send messages around the globe in seconds.
We can explore the offerings of manufacturers and retailers from around the world and have any of those items shipped to our homes from China, India, Europe, Mexico and United States.
Go to any Canada Post office or go to any package delivery outlet on the US side of the border and you will see not hundreds but thousands of packages coming into our city from around the globe.
Getting back to Mr. Turco's speech: If you went to anyone in the early 1990s and asked if they wanted council to fix more pot holes or to make our streets safer, you would not get a single negative reply.
If you go to voters today and asked if they wanted more jobs for their children or grandchildren, you would not get a single negative reply.
Canada Post's Decision was made because of two different but related realities.
First, letter mail is declining at a rapid rate and it is projected to continue to decline; Second, package freight delivery is increasing at a rapid rate and is projected to continue to increase.
Canada Post has acknowledged they have to build processes to aid the elderly and the disabled; they have to work on protocols for the placement of mailboxes within existing neighbourhoods.
Both of those issues are opportunities for the Sault.
The Chamber is urging you to do two things to capitalize on those opportunities:
First, offer to be part of the solution.
If you really want to help our community and the elderly and disabled, then work as hard as you can to have direct involvement in the final outcome of the new letter mail system; put us on the map as a community that brings solutions to the table; Second, The Chamber is asking you to take a position that will invite Canada Post and CUPW to make the City of Sault Ste. Marie a major player in the growing package freight business so that good paying jobs can be available for people in our community.
The Chamber is asking you to take the same position on the Canada Post issue as you so wisely took with the OLG modernization and the CN Rail issue.
Let's figure out a way to position ourselves not to be a protest community by a solution community.
There have been many articles in National media on this issue.
The one we really need to have written would have the following headline: "Sault Ste. Marie to be Part of the Solution for Growth at Canada Post."
I urge all of you, on behalf of the 750 Chamber members who employ more than 10,000 workers to examine this issue and come back with a "solution" resolution.
Mark S. Barsanti
President, Sault Ste. Marie Chamber of Commerce
*************************