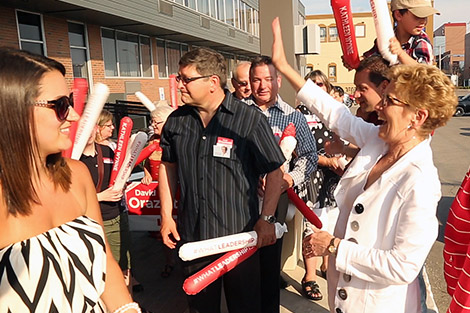 Premier Kathleen Wynne became the first provincial party leader to visit the Sault during this spring election when she made a stop Monday night at the Holiday Inn Express.
Wynne was greeted by Liberal supporters and by local Member of Provincial Parliament (MPP) David Orazietti.
Wynne addressed many investments she believes are important to the north, including grants through the Northern Ontario Heritage Fund Corporation (NOHFC), which she says other party leaders have not committed to maintaining.
"The north has a hugely positive future, and in order for that future to be realized we need partnerships with government. Governments need to be working with communities and making investments, wether it's NOHFC or four-laning highways or making sure the business climate is such that businesses come to the province," said Wynne.
Wynne highlighted Progressive Conservative leader Tim Hudak's plan to slash public sector jobs in order to balance the province's budget.
"I believe that the people of Ontario believe in our future. They don't believe we should slow down the recovery right now. They believe we should be investing in education and health care and to get to where we need to go cutting 100,000 jobs out of the economy is not the way to start," said Wynne to supporters.
Tim Hudak was unable to attend a Northern Ontario debate earlier on Monday, and has yet to appear in Sault Ste. Marie during the spring election in support of local candidate Rod Fremlin.
Orazietti said Premier Wynne is an incredible supporter of this community and highlights working closely with her when she was Minister of Education on various projects across his riding.
"Some of the school projects that have been built in this community, her and I have worked very closely on to ensure that those resources and that money flowed from the Ministry of Education right here in this community," said Orazietti.
Local NDP candidate Celia Ross was expected to meet with her party leader Andrea Horwath on Monday, but had to travel to Sudbury to do so.
"We have a comprehensive plan to build on a really thorough understanding of what the economy needs, whether we are in the north or south or the east or west of the province. What the NDP is doing is putting together an incoherent grab bag of ideas and that was very clear today at the debate," said Wynne.
Wynne will be in the Sault until Tuesday morning, after which she continues her campaign in Sudbury.
To view video of Wynne's arrival at the Holiday Inn Express, please click here
(PHOTO: Premier Kathleen Wynne greets supporters at the Holiday Inn Express on May 26, 2014. SooToday.com/Kenneth Armstrong)