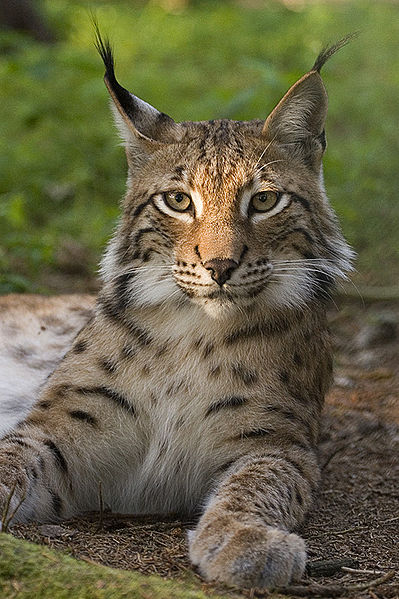 Loyal readers have been contacting SooToday.com by phone and email Wednesday with reports of what they refer to as a Lynx in the city's East end.
One lynx was reportedly seen by a resident on Texas Avenue, who had concerns about letting his dogs out.
Later Wednesday an email tip was sent in about a lynx reportedly seen in the area of Chartwell Drive and Heath Street.
If you suspect wild cats may be in your area, the Ministry of Natural Resources recommends that you:
Limit food sources
• Put garbage in containers that have tight fitting lids. Put garbage out on the morning of pick-up, not the night before.
• Store garbage indoors.
• If you do not have curbside pick-up, take your garbage to the dump often.
• Frequently wash garbage cans, recycling containers and their lids with a strong-smelling disinfectant.
• Do not leave pet food outdoors.
• Do not put meat, fish or sweet food (including fruit) in your composter.
• Pick all ripe fruit from trees and bushes.
• Remove grease and food residue from barbecue grills, including the grease cup underneath, after each use.
Make your property unwelcoming
• Modify the habitat around your home. Light all walkways after dark and avoid landscaping with plants that deer prefer to eat. Where a deer goes, a lynx or cougar may follow.
Be aware
• An encounter with a cougar would be rare.
• If you believe a cougar is threatening your personal safety or that of others, call 911 or your local police.
• If you think you see a cougar in a tree, leave it alone. Call 911 or your local police.
• If you believe you have seen a cougar but it is not a threat to public safety, please report it to your local Ministry of Natural Resources office.
If you encounter a cougar or lynx
• Never approach the animal, especially if it is near a kill or with young, and never offer it food.
• Released or captive-reared cougars may be accustomed to humans and allow you to get close. Nevertheless, animals are unpredictable, and you should always exercise caution.
• If you see a cougar or lynx, stop, pick up small children and don't run. Remember, its instinct is to chase.
• If you're with others, stay together and act as a group. Children and pets should be kept very close.
• Face the animal. Talk to it firmly while slowly backing away. Always leave the animal an escape route.
• Do not crouch down or try to hide. Try to appear larger.
• Do not take your eyes off the animal or turn your back.
• If the animal does not flee, be more assertive by shouting, waving your arms, and throwing anything available.
• If the animal attacks, fight back with everything you have. Lethal action is a last resort
• Landowners may humanely kill a cougar that is damaging or about to damage their property. Firearm regulations and bylaws must be followed.
• Landowners must report a cougar killed in protection of property to their local Ministry of Natural Resources office.
For more information on cougars or lynx, contact your local Ministry of Natural Resources office or the Natural Resources Information Centre at 1-800-667-1940.