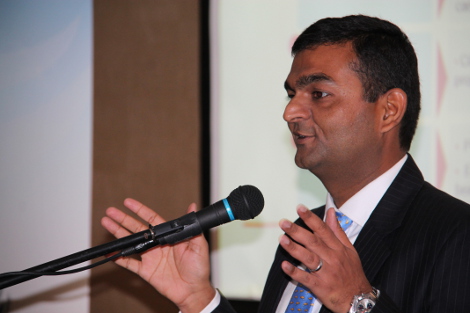 The Port of Algoma is 'now' and shouldn't be referred to as a 'future project.'
That message from Anshumali Dwivedi, Port of Algoma CEO.
Dwivedi was speaking to the Sault Ste. Marie Chamber of Commerce at its annual general meeting held Wednesday afternoon at the Delta Sault Ste. Marie Waterfront Hotel.
The port's first phase, which was launched last year with the help of funding from all three levels of government and Essar Steel Algoma consisted of planning and design of the project, environmental assessment and consultation with First Nations communities.
"That was a work that was initially expected to take much longer time but much of the written down work and paper work has actually been completed and the studies have been completed in 2015 so we're very close to having the final report in place and it shows big potential for this region," Dwivedi told SooToday.
Release of the report is a few weeks away, Dwivedi said.
"There is no competing port on the Canadian side all the way to Thunder Bay so there is a big radius we can service, the hinterland here has significant resources and we're fantastically located with access to the North American markets."
Dwivedi said some shipping from the port has the potential to go overseas.
The port has 1.4 kilometres of dock area available.
Application for funding of the actual construction/expansion phase of the project, which was estimated last year to be around $120 million, will be made soon.
"We don't know (what the final figure will be)…we'll finally know maybe sometime next month (when the final report is complete)," Dwivedi said.
"We'll also have better clarity as to what the final spilt of the capital cost will be."
It is hoped, whatever the final price tag may be, the federal and provincial governments will each contribute a third to the port, with the private sector putting in a third of its own.
"I hope 2016 will be a good time to put shovels in the ground," Dwivedi said.
How many jobs, direct or indirect, will the Port of Algoma create?
"I've seen various studies with various numbers like 1,300, 1,500, 2,000, but these projects generate jobs in two phases, the first is the construction phase which should be a few hundred jobs at any given point in time, the construction phase itself going into a few years, and the cargo handling itself keeps on happening …as we're able to pull more industrial facilities around here, that's the secondary jobs that start getting created."
"You're looking at a big number...you could easily be a fairly large employer, directly or indirectly," Dwivedi said.
While Essar Steel Algoma and other Sault-based industries such as Tenaris Algoma Tubes will be the port's main customers, Dwivedi said "we have one client already moving in from southern Ontario and they're looking at bringing in bulk material so we hope to handle the first non-Essar boat, non-Tenaris boat, non-traditional boat by the middle of October 2015."
Dwivedi said the name of that client will be released "once the boat comes in."
Superior Slag Products is one company among other "traditional users" currently using the port, Dwivedi said.
Dwivedi told the chamber audience shipping by boat is cheaper and more environmentally-friendly than trucking and safer than rail.
Dwivedi said the Port of Algoma, part of the Essar empire, is a different entity from Essar Steel Algoma when asked by SooToday to comment on the steelmaker's recent layoff announcement affecting 100 jobs.
(PHOTO: Anshumali Dwivedi, Port of Algoma CEO, speaking to the Sault Ste. Marie Chamber of Commerce at its annual general meeting held at the Delta Sault Ste. Marie Waterfront Hotel, October 7, 2015. Darren Taylor/SooToday)