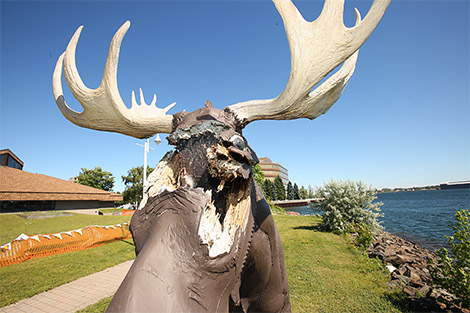 ************************
2:23 p.m. update
SooToday.com received a call Thursday afternoon informing us that Bruce had completely lost his head.
"The head is gone, like no more head. It's beheaded," said Lisa Cachagee, manager at Docks Riverfront Grill.
SooToday.com followed-up by calling the city parks department co-ordinator Travis Reid, who informed us that they are in possession of the missing head.
"We have the head, well... mostly nose," said Reid.
He added that they are not sure if the damage was due to vandalism or deterioration from old age, but they plan on replacing the head and giving the rest of the statue a once-over.
"He's in harsh conditions on the waterfront and bears the brunt of all seasons," said Reid.
Reid didn't give a timeline for the completion of Bruce's nose job.
************************
Bruce the Moose is no stranger to vandalism.
The wooden statue appears to have been damaged once again, possibly during Tuesday night's fireworks display.
The damage was noticed by patrons of Docks Riverfront Grill, who were hoping to have their photo taken with the Sault Ste. Marie landmark, said an employee of the restaurant.
Bruce was also damaged in 2010, when his antlers were removed for the second time.
The employee said that she contacted police about the vandalism.
Although it is possible the statue was damaged by accident when someone hung from the head, the employee said she has doubts.
She said she has seen multiple people on the staue at a time in the past and this time it appeared to her that the damage may have been deliberate.
There didn't appear to be any pieces or even splinters in the immediate area but at least this time the antlers were left intact.
(PHOTO: Damage to Bruce the Moose, who stands at the waterfront next to Docks Riverfront Grill. SooToday.com/Kenneth Armstrong)